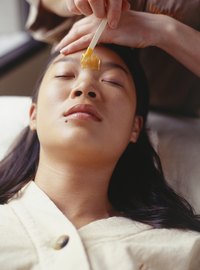 Waxing is a temporary but effective form of removing unwanted hair. It lasts longer than other forms of temporary hair removal and is safer than many of the permanent hair removal options. Many people believe it is the most effective method of removing hair from any part of the body. The benefits of waxing facial hair make it a preferred method of removing unwanted hair of women of all ages and some men.
Effective
Waxing removes the entire hair shaft from below the skin's surface, resulting in smooth, glowing soft skin. Only the hair that has wax on it is removed, making it an effective method for small areas of the face. A trained salon technician can ensure that only the unwanted hair has wax, thereby ensuring perfectly shaped eyebrows. Hair is removed only from the surface when utilizing other hair removal options.
Long Lasting
Waxing facial hair leaves your face smooth for three to eight weeks because the hair needs to reform a root before it can appear again. The time it takes for new hair growth varies from person to person. Other forms of hair removal only last up to a week and hair can be seen at the surface within a couple of days. After each waxing the new hair growth is finer and lighter. People have reported becoming totally hair-free in areas they have waxed consistently for years.
Safe
Wax contains no harmful chemicals. There are two types of facial hair wax, cold and hot. Thinly apply both hot and cold wax on the face. Place a strip of cloth over the cold wax and quickly rip off in the opposite direction of the hair growth. Hot wax is allowed to harden and cool, which allows easy removal without the aid of cloth. The most common side effect is redness of the skin. Some doctors do not recommend waxing for people with diabetes, varicose veins or poor circulation. To be safe, ask your doctor before heading to the salon.
Cost
At first glance, waxing may appear costly. However, when compared to the cost of other hair removal methods it is relatively inexpensive. Waxing produces long-lasting results, therefore time between salon visits are longer and over time can cost less than repeatedly purchasing razors, shaving cream and hair removal lotions.