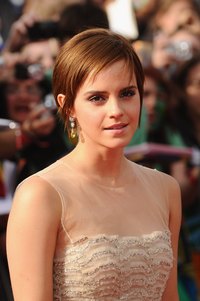 Short hair can be a modern and stylish fashion for women's hair. It can also be a relief in summer months when long hair can become frizzy and unmanageable. There are a number of short hairstyles to choose from, from a buzzed style to a pageboy, and knowing the options will help you choose the one that works best for you.
Buzz Cut
A buzz cut is a style typically worn by men, but more and more women are turning the cut into their own. A buzz cut is made by cutting the hair close to the scalp using an electric trimmer. Actresses who have worn this style include Halle Berry and Emma Watson.
Pixie
The pixie cut was made famous by model Twiggy in the 1960s, and it has been popular ever since. The pixie cut is a short style with the hair cut close to the scalp like a boy's, but is a bit longer than a buzz cut. Hair often curls around the ears and the nape of the neck.
Pageboy
A pageboy haircut is a blunt cut with hair that falls right at the ears. Ice skater Dorothy Hamill sported this look at the height of her skating career in the 1970s. Often, this style is accompanied by a short, blunt bang.
Bob
A bob is a modern, short style, recently seen on stars like Victoria Beckham and Jenny McCarthy. The hair hits just at the chin, and sometimes is shorter in the back with longer pieces framing the face.