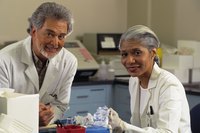 In California, thousands of clinical laboratory scientists, also known as clinical laboratory technologists, work for hospitals, physicians' offices, educational institutions and the government. They conduct tests using body fluids and cells to understand chemical, biological, bacteriological and immunologic reactions and relationships and use findings to diagnose, treat and prevent diseases. Clinical lab scientists also frequently train and oversee the work of technicians. The salary range of a clinical laboratory scientist in California can vary depending on a few influential conditions.
State Average
According to salary data from the U.S. Bureau of Labor Statistics, as of May 2010 clinical laboratory scientists in California earn an average income of $75,620 a year. This is significantly higher than the national average of $56,870 a year and is the highest state average salary for clinical laboratory scientists in the country.
Wide Range
In 2010, there were an estimated 11,510 clinical laboratory scientists working in California, the second-largest number of any state except Texas. Most of them reported salaries ranging from $62,120 to $90,810 a year, representing the middle 50 percent, but there were some exceptions. Some scientists fell into the bottom 10th percentile and made less than $48,550 a year. However, those at the top of their field made it into the top 10th percentile and reported an annual mean wage of more than $104,510.
Different Areas of California
Clinical laboratory scientists in Chico make $75,480 a year on average, similar to the statewide figure. However, those in the San Luis Obispo-Paso Robles area only earn an average salary of $66,440 a year, while those in Redding report just $66,510 annually. Higher-paying areas include Santa Cruz, at $84,160 a year on average; the Oakland-Fremont metro division, with an annual mean wage of $84,640; and the Mother Lode non-metro region, where scientists make $86,080 a year on average. However, the San Jose-Sunnyvale-Santa Clara area of the state reported the highest incomes, boasting an average salary of $88,330 a year for clinical laboratory scientists.
Qualifications
Most clinical laboratory scientists possess a minimum of a bachelor's degree, commonly in medical technology or a life science. During formal education, they study chemistry, microbiology, biological science and math and receive special training in clinical laboratory settings. In California, clinical laboratory scientists must be licensed (CLS) and may be required to complete a minimum of two years as a licensed trainee or equivalent.