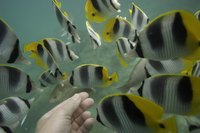 An aquarist is basically a zookeeper in scuba gear. Like a zookeeper, an aquarist cares for many types of animals that live in the sea, including marine mammals like sea otters, dolphins and sea turtles. Also involved in species conservation projects and public education about sea life, an effective aquarist is passionate about the creatures she cares for and is willing to do physically demanding work in all kinds of weather.
Salary
Aquarists, classified as non-farm animal caretakers by the U.S. Bureau of Labor Statistics, earned a median annual salary of $22,070, with a range of $16,050 to $39,010, according to bureau data. Like most jobs, the annual pay is based on one's experience, education, type of facility and region of the country. Aquarists working for federal and state government facilities, for example, earn about $10,000 more per year than those in private and nonprofit facilities.
Job Duties
Aquarists spend much of their time working in the water, feeding and otherwise caring for sea creatures. They monitor the animals' health and behavior; prepare food and hand feed the fish; and train sea mammals, not only to entertain aquarium visitors but to make caring for the animals easier. Seals, for example, may be trained to come when called; tolerate human touch; and roll over so that the aquarist or veterinarian can care for them. Aquarists also monitor water quality, temperature and tank condition, servicing and replacing equipment as necessary. This type of comprehensive care is not a Monday-Friday day job, so aquarists may work long hours and different shifts, including holidays and weekends.
Qualifications
A bachelor's degree -- in biology, marine science, conservation biology or zoology -- is the minimum education requirement for a professional aquarist. Those specializing in marine mammal training may have a bachelor's degree in animal behavior or psychology. An aquarist should also have volunteer or internship experience in an aquarium, zoo or research laboratory, and be a certified scuba diver before applying. Because he sometimes travels to help collect marine specimens, he should also have a valid passport for international travel.
Career Prospects
The demand for aquarists and other non-farm animal caretakers is expected to increase by 21 percent between 2008 and 2018, the Bureau of Labor Statistics reports. Aquarists specializing in caring for and training marine mammals, though, will face stiff competition for jobs. Those with experience in caring for sea animals in a variety of environments will likely have better job prospects.