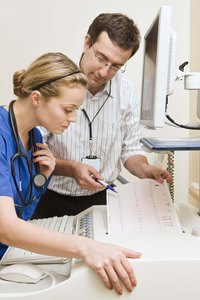 Telemetry technicians analyze and report on a patient's heart rhythm using information obtained from equipment such as electrocardiograph (EKG) machines. However, the demand for EKG technicians is expected to decline, according to the U.S. Bureau of Labor Statistics (BLS), as hospitals train nursing aides and others to perform basic EKG procedures. Individuals trained in a variety of cardiographic monitoring and stress-testing techniques are expected to have better job prospects than basic EKG or telemetry technicians.
City Salary Comparisons
As of July 2011, cities in the east and north tend to offer higher pay than southern cities. For example, the average salary for a telemetry technician in New York City was $46,524, followed by $45,108 in Boston, $44,962 in Seattle, $44,800 in Los Angeles, $43,002 in Minneapolis, $42,986 in Washington, D.C., $42,495 in Philadelphia, $42,214 in Chicago, $40,417 in Houston and $40,006 in Dallas, according to the Economic Research Institute. Charlotte, North Carolina, employers paid telemetry techs $39,507, on average, while Orlando, Florida, paid average salaries of $37,596. In Atlanta, telemetry techs averaged $39,430. In Phoenix, they earned $39,297, and in Miami they earned $39,020.
Related Jobs
Although jobs for telemetry and EKG technicians are expected to decline, growth is projected in related jobs for which they could easily cross-train. For example, as of July 2011, in San Diego EKG techs earned an average salary of $36,000 and telemetry techs (who use more equipment than just an EKG) earned $46,000, according to SimplyHired Inc. And in that same city, vascular technologists earned $51,000 on average, vascular sonographers and echocardiographer earned $57,000 and cardiac sonographers earned $59,000. Cardiographic techs, however, earned only $26,000.
Type of Employment
Telemetry and EKG technicians are grouped in the same category as cardiovascular technologists and technicians, according to the BLS. As of May 2010, 48,720 techs were employed in this category. Of that number, 36,990 worked in general medical and surgical hospitals. Another 8,030 worked in physicians offices, with the remaining 2,090 split among medical and diagnostic laboratories, outpatient care centers and educational institutions.

Education
Most employers train their EKG technicians in-house, according to Education-Portal.com. However, many community colleges offer certification in telemetry and train students in electrocardiograph theory, cardiac monitoring and the use of EKG equipment. A high school diploma or equivalent is necessary for admission to training as a telemetry technician or EKG technician. Students also have the option of earning an associate degree in cardiovascular technology, which trains them to work in both areas and offers more employment options. However, as of July 2011, the average pay for a telemetry tech was $56,000 vs. $47,000 for a cardiovascular technologist.