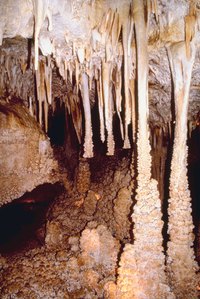 Calcite is the chemical compound calcium carbonate. It is the second most common mineral on Earth after quartz and comprises 4 percent of the Earth's crust. Calcite occurs in a wide variety of environments ranging from layers of limestone inter-bedded with other sediments, to marble, a crystallized, metamorphic version of limestone. Calcite may be any color, black, or no color at all. Sea organisms such as corals and algae build their shells from calcite. It dissolves in mildly acidic rainwater and groundwater, and precipitates in the soil leaving deposits of caliche, a hardened form of calcite. In caves, calcite precipitates to form stalactites hanging from ceilings and stalagmites growing from the ground up.
Construction
The construction industry has used calcite in the form of marble and limestone since ancient times. The pyramids of Egypt and Latin America consist of limestone blocks. Ancient Greeks and Romans used marble slabs as an external veneer on buildings to provide a smooth and decorative surface. These uses continue into the modern era.

Acid Neutralization
Calcite in the form of crushed limestone neutralizes acid soils. The same product cleans rivers and drainage systems of industrial, acidic waste. On the same principle, calcite is a component of antacid stomach medicines.
Dietary Supplement
Small amounts of pulverized calcite produce a calcium-rich supplement for poultry and cattle. It enhances the quality of milk, eggs, and hardens egg shells.
Ornaments
Calcite in the form of marble has been one of the preferred stones for large ornaments, statues and memorials since ancient times. The Parthenon Marbles, also called the Elgin Marbles, are a series of classical Greek sculptures originally decorating the Acropolis in Athens. A common modern ornamental use of calcite is for cemetery memorial stones.

Filler
Powdered calcite is inert, non-toxic and has a high whiteness. It has numerous uses as a filling material for toothpaste, medicines, paints, rubber and foods. The abrasive properties of calcite provide toothpaste with some of its cleaning properties.

Sighting
Optical calcite is a pure, clear crystal form of calcite. Flawless crystals have uses in optical instruments ranging from microscopes to gun sights. Many weapons used during World War II had calcite crystals in their sighting equipment.
Cement
Cement is one of the most common calcite products. Calcite is heated to produce calcium oxide, or lime, and carbon dioxide. The addition of a small amount of gypsum, calcium sulfate, to the lime produces Portland cement. A mixture of Portland cement, sand, gravel, and water produces basic concrete.