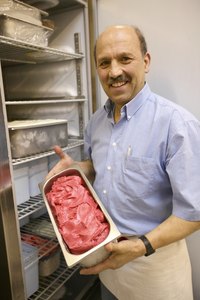 Butchers cut meat and weigh, wrap and affix a price and descriptive label to cuts. They also set up meat displays, fill special orders, adhere to sanitation codes and keep track of inventory. Some butchers are represented by a collective bargaining agreement, such as one ratified by the United Food and Commercial Workers International Union, a labor organization representing the food industry in the United States and Canada. How much union butchers make is based on the collective bargaining agreement reached by its labor representatives.
Representation
The United Food and Commercial Workers represents 1.3 million workers, including meatpacking and poultry workers. The UFCW also represents members in the retail food, manufacturing and processing and retail stores industries. The union does not disclose how many of its members are butchers.
Employment
The U.S. Bureau of Labor Statistics (BLS) categorizes butchers and meat cutters together, reporting 125,910 workers nationally as of May 2010. Butchers and meat cutters represent one of several food processing occupations identified by the bureau. As of 2008, the bureau noted that 16 percent of all food processing workers, including butchers, were represented by a union.
Salaries
The BLS does not identify wages for union butchers; nonetheless, union representation usually means higher wages, with the UFCW claiming that all union members nationally average 30 percent higher pay than non-union members. BLS data reveals that the mean annual wage for butchers and meat cutters is $30,190. Those in the 10th percentile earn $18,060; in the 25th percentile they average $21,850; in the 50th percentile $28,600; in the 75th percentile butchers average $37,380 and in the 90th percentile the average annual salary is $45,500. Most experienced union butchers likely make in the upper range of the bureau's salary spectrum.
Industries
The majority of butchers work for grocery stores, with 89,550 workers earning an annual mean wage of $30,550. Specialty food stores employ 12,770 butchers and meat cutters, who earn an average $27,910. Animal slaughtering and processing companies employ 11,010 workers, who average $27,380 per year. Other general merchandising stores employ 6,000 and pay $32,460 while wholesalers employ 3,220 with average earnings of $30,750. The industry paying the most, the federal government, employs 1,160 butchers and pays an average of $44,270 annually.