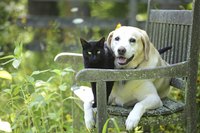 Vetscription is a line of products by the Sergeant's animal care product company which are specifically recommended by veterinarians. They are over-the-counter versions of prescription medications including hot spot treatment, flea and tick pest controls, medicated shampoo, ear mite treatment, joint care products and wormers. The Vetscription wormer products are safe for use in cats and dogs of most ages if you follow package directions. The Sergeant website warns that you should never use Vetscription dog wormer on a cat.
Active Ingrediants
The active ingredients in dog and cat wormers are different. Sergeant's Vetscription Worm Away for dogs contains 30 mg of pyrantel pamoate and 30 mg of peaziquantel per chewable pill. It is administered at a rate of 2.27 mg of each drug per pound of body weight. Sergeant's Vetscription Worm Away for Cats contains 140 mg of pauperizing per capsule. It is administered at a rate of 28 mg per pound of body weight.
Treatment
Cats and dogs do not necessarily contract the same kind of worms. In fact, dogs have a far greater tendency toward worminess than cats. Because of this, dog wormer targets a broader spectrum of parasites than cat wormer. Vetscription Worm Away for cats treats only large round worms. Vetscription Worm Away for dogs treats roundworms, hookworms and tapeworms.
Dosage
Because cats are typically significantly smaller than dogs, the dosage information on cat wormer is more appropriately divided for use in cats than dog wormer. Dosage instruction on Vetscription Worm Away for dogs gives dosage instructions for six to 12 lbs. or 12.1 to 25 lbs., and instructs owners with a dog over 25 lbs. to buy the Vetscription Worm Away for Large Breeds. Vetscription Worm Away for Cats gives dosage instructions for cats 1 to 5 lbs., 6 to 10 pounds, 11 to 15 lbs., 16 to 20 lbs., 21 to 25 lbs. and over 25 lbs. There is only one strength of cat wormer, you cannot buy a larger dosage category for larger breeds.
Retreatment
You should treat both dogs and cats 10 days after their initial dose to prevent recurrence and treat any worms not eliminated by the first dose. You can then repeat treatment as often as necessary to control worm infestation, as long as dosage does not exceed once every 10 days.