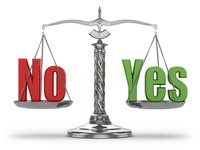 Executive pay remains a divisive issue as the pay gap between executives and workers continues to widen. The Dodd-Frank Wall Street Reform and Consumer Protection Act obligates companies traded publicly on the stock market to hold nonbinding "say on pay" votes that give stockholders a chance to weigh in on executive compensation.
Pro: Enhanced Accountability and Transparency
Historically, corporations shrouded executive compensation in mystery, which contributed to the swell in executive pay over time. The Dodd-Frank Act requires publicly traded companies to disclose executive compensation and the ratio between CEO pay and median pay for workers, which contributes to transparency. The disclosure of compensation and the pay gap, as well as normal disclosures about company performance, helps stockholders hold the CEO accountable for company performance. Stockholders can vote against compensation packages to express their displeasure.
Con: Complexity
Corporate executives often control the fate of tens of thousands of workers and billions of dollars in annual revenue. In 2013, for example, Apple generated $171 billion in revenue — a sum that exceeded the gross domestic product of 134 of the 191 countries listed on the World Bank's GDP report for 2013. Devising appropriate compensation plans for managing that level of money, along with steering the company toward short- and long-term goals, creates a complex challenge for the company. Stockholders often lack the necessary depth of knowledge, or lack the interest in acquiring the depth of knowledge, necessary to put a compensation plan into context.
Con: Uncertainty
A simple "yes" or "no" vote on executive compensation by stockholders does not necessarily send a clear message to the company. The reason for a negative vote on compensation might reflect stockholder dissatisfaction with the mere size of compensation, but it can also signal dissatisfaction with a specific feature of compensation, such as bonuses or incentives. On the flip side, stockholders might vote to approve a compensation package, despite misgivings about a specific feature of the compensation package.
Considerations
Despite an apparent general unhappiness about executive compensation levels, votes against executive compensation packages are rare. Stockholders typically accept the recommendations of advisory firms, which usually recommend approval of compensation packages. Corporations can also overcome the uncertainty flaws in a simple "yes" or "no" vote. Offering stockholders additional information about why the compensation package takes a given form allows them to make more informed decisions. Offering a more sophisticated voting method that allows stockholders to vote on major features of compensation would provide companies a better sense of which elements of compensation voters support or do not support.