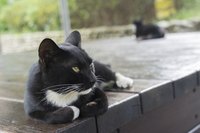 If your eyes are scanning the poster of cat breeds in your veterinary hospital's waiting room in search of an image that resembles your tuxedo cat, you are unlikely to find one. That's because his label, tuxedo, refers to his coat color and pattern, not to his breed. The same is true for cats who are labeled as calico or tabby.
Always Impeccably Dressed
A tuxedo cat sports the color combination of one color plus white, called bicolor, or piebald. In the case of the tuxedo cat, the coat pattern gives him the appearance of being clad in a black coat and tails and a white shirt. He also may have white gloves and socks to complete the formal attire. Many tuxedo cats will have white markings on their face, such as a splash on the forehead, a vertical stripe on the nose, a white chin or a white mustache.
From One Ancient Cat
Domestic cats originated from the Middle Eastern wildcat, which has roamed the Fertile Crescent region since before the first agricultural settlements. Farmers coaxed wildcats to hunt rodents that would invade crops. This proved to be the first step toward feline domestication. Over the centuries, cats migrated with humans to other parts of the world. They evolved to adapt to their new surroundings. Once uniform in color, the cats started to display varied appearances in coat colors, patterns and lengths.
It's All In the Genes
There are only two dominant color genes found in cats: black and orange. White is not a color. It is a genetic mutation that allows the white spotting to occur. In the case of the tuxedo cat, his black coloring is masked on only some parts of his body, revealing white instead. Bicolor cats who exhibit the tuxedo coat are usually domestic shorthair or domestic longhair cats, but variations on the bicolor theme may appear in some purebred cats as well.