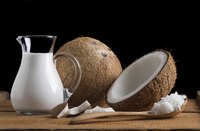 Whether you're looking for a replacement for your coffee creamer or for your usual sports drink, coconut may be your answer. While canned or raw coconut milk is more useful as an ingredient in cooking, coconut water or refrigerated coconut milk can serve as an alternative to your usual drinking beverage. Knowing the differences may help you determine which, if any, works best in your diet.
How Each Is Made
They come from the same food, but coconut milk and coconut water are very different. To make the milk, grated coconut flesh is soaked in hot water, which is then squeezed through a cheesecloth several times to get the thin liquid. The drinking coconut milk, as opposed to the canned cooking coconut milk, is further thinned down with water and may contain additives to make it more closely resemble cow's milk.
Coconut water, on the other hand, is the liquid you find when you open up a coconut.
Comparing the Nutrition
Canned coconut milk is much higher in calories and fat, with 445 calories and485 grams of fat per cup, compared to 46 calories and less than 1 gram of fat in the same serving of coconut water. Carb content is less in the milk, although coconut water is a source of fiber while the milk is not, and neither is an especially good source of protein. A 1-cup serving of coconut milk contains around 6 grams of carbs and almost 5 grams of protein, while the same serving of coconut water contains 9 grams of carbs, 3 grams of fiber and almost 2 grams of protein.
The drinking coconut milk contains 80 calories and 5 grams of fat per cup as well as 7 grams of carbs and no protein. It is fortified with calcium and vitamins D, A and B-12.
Coconut water contains higher amounts of some minerals, including sodium, potassium, magnesium and manganese. Coconut water is a good source of the latter three minerals, too, -- plus iron, phosphorus and copper -- but contains very little sodium.
Uses for Each Drink
Coconut milk may be used as a replacement for cow's milk or another plant-based milk alternative to use in your coffee or in a recipe that calls for milk. However, due to its high calorie and fat content, drinking it like a glass of milk is probably not recommended for most people. If you're looking for a milk-like beverage, the drinking coconut milk, often found in the dairy case, may work for you.
As a high-electrolyte beverage, coconut water has gained a reputation as an alternative sports drink. It's also lower in calories than most juices, which typically contain about 60 calories in a 1/2-cup serving, so you may consider drinking it instead of a glass of juice to save calories.
Things to Consider
All of the fat in coconut milk is in the form of saturated fat. However, it's not the same type of saturated fat found in butter and bacon, but medium-chain saturated fats, which the body processes differently. If you're concerned about cholesterol and heart health, the American Heart Association recommends you limit your total intake of saturated fat, including the saturated fat in coconut milk, to less than 5 percent to 6 percent of total calories.
While coconut water is a source of electrolytes, it's not a good source of carbs or protein and does not make a good replacement for sports drinks, according to MayoClinic.org. Additionally, the water is high in sodium, which, if you consume too much, may increase your blood pressure.