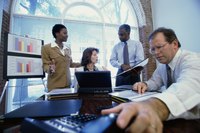 One of the challenges for a nonprofit organization is maintaining its nonprofit, tax-exempt status. This requires the organization to demonstrate that its expenses offset its income, preventing owners or directors from profiting based on the organization's earnings. Capitalization is one tool nonprofits use to control their accounting and remain in compliance with state and federal tax codes.
How Capitalization Works
In accounting, capitalization refers to spreading out certain costs over extended periods of time. Nonprofits can spread out, or expense, capital purchases over a number of years. A capital purchase is generally an expensive asset that the organization purchases and expects to use for a number of years. Each year, the organization accounts for a portion of the asset's depreciation on a capital budget instead of recording it as an unusually large one-time expense.
Purposes
A capitalization policy tells a nonprofit organization's leaders when performing capitalization and expensing a purchase is advantageous and when it makes more financial sense to simply account for the purchase and move on. By following a set capitalization policy, leaders don't need to spend time assessing every purchase to decide whether it's a good candidate for capitalization. By capitalizing the right purchases, a nonprofit can show how the expense applies over a number of years to help offset its income.
Terms
A capitalization policy should set a specific dollar amount, above which assets that will last for more than a year are flagged for capitalization; accountants then enter those that cost less than the capitalization threshold into the organization's books as regular purchases. Certain types of equipment, such as automobiles, buildings and computers, may form a list of capitalization targets, which a policy can also make note of to aid in determining which expenses leaders should decide to capitalize.
Setting a Policy
A nonprofit organization's board of directors and accounting staff are responsible for drawing up and amending a capitalization policy, and the specific policy a given nonprofit adopts should take its income, schedule of expenses and other assets into account. For example, if a nonprofit receives special funding one year and uses it to purchase a new building, its capitalization policy should leave room to decide not to capitalize the cost of the building, instead accounting for it in the same year as the windfall income to avoid showing an excessive profit.