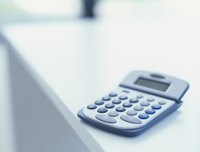 Companies often must estimate future losses and liabilities. According to GAAP, or generally accepted accounting principles, companies should use the terms "provision" or "allowance" rather than using the term "reserves." The reason for this preference is to avoid confusing financial statement readers. Organizations responsible for accounting oversight are concerned that investors could interpret the term reserves to mean cash held by the company for a specific purpose.
Sales Allowances
Organizations must recognize that customers sometimes return products. Returns happen because of product defects or damage. Customers also return items because they are the wrong size or color. Organizations that anticipate a certain percentage of sales to result in returns should establish an allowance account for returns. The organization should base the allowance for returns on an analysis of historical and present trends.
Warranties
Many products have warranties that guarantee product performance for a specified length of time. Companies must recognize the liability for potential repairs or replacements in their accounting records. Investors often track the amounts organizations allow for warranty obligations. Unexpected increases in this account can alert investors about quality problems. The amount reserved for warranty expenses is only an estimate, however, and may be inaccurate or inconsistent.
Doubtful Accounts
Determining the amount to use for the allowance for doubtful accounts is not simple. There are multiple methods accepted for calculating this reserve. Aging of accounts receivable is the most commonly used method. It assumes that older balances are less likely to be paid. While aging of accounts is frequently used, companies should choose the method that most accurately predicts bad debt losses. Since calculating the allowance for doubtful accounts is an estimation, investors should seek more information if this account decreases substantially. It is possible for companies to lower this reserve to artificially inflate earnings.
Litigation
FAS 5, or Financial Accounting Standard 5 requires a company to set aside funds for losses if the loss is likely and if it is possible to estimate the amount. Even if both of these conditions do not exist, a company may still need to disclose a pending lawsuit in the notes to its financial statements. Companies should not establish a general legal reserve fund, however. Management should determine the reserves and disclosures after analyzing each case individually. A company should also examine its legal reserves periodically and increase or reduce them as needed.