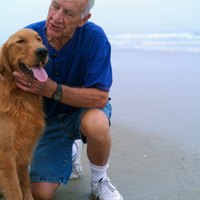 Canine lipomas are the most common harmless tumors in dogs. Lipomas are benign fatty tumors. Most lipomas are left alone if they do not bother the dog. When you notice a lumpy or bumpy area on your dog's skin, take him to your veterinarian for a diagnosis. If it is a lipoma, it will ease your mind.
Canine Lipoma Description
A dog lipoma is a fatty tumor just below the surface of the skin. A lipoma is soft, round in shape and it moves. When you feel this type of harmless tumor, it shouldn't cause pain to your four-legged friend, and it shouldn't be inflamed or red.
Any dog can have a lipoma arise, though they are more common in middle-aged or older dogs in dachshunds, poodles, cocker spaniels, terriers and retrievers.
Veterinarian Tumor Identification
Your veterinarian will insert a needle into the lump and draw some liquid. The liquid is put on a slide and examined. Lipomas contain a clear, oily substance that is characteristic of a fatty tumor.
Lipoma Treatment
A lipoma generally gets about the size of a golf ball and doesn't interfere with your dog's daily activities. The treatment for a noninterfering fatty tumor is to leave it alone, but keep an eye on it. Lipomas are benign, noncancerous tumors that may look less appealing to the eye, but are harmful.
Lipoma Complications
If a lipoma is in an area that causes restricted movement, such as in an underarm or it obstructs eating or drinking, it needs to be removed.
An infiltrative lipoma is rare, but it can be cancerous, have inflammation around it and spread to other tissues. This type of lipoma is treated with surgery for removal and radiation treatments.
Daily Skin Check
Check your dog for new lumps and bumps daily when you groom or pet him. Feel all over his skin from his paws, up his legs, through the abdomen and body and his tail, and don't forget his head and neck. He will enjoy the extra rubbing and attention while you check for new lumps and bumps. If you notice additional areas that arise, take your buddy to his veterinarian. If your dog has several fatty tumors, you may want to keep a chart of them, so you will realize when a new one appears.