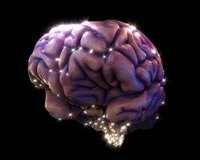 Most people know glutamate as monosodium glutamate, a flavor enhancer in food. A simple but more important function of glutamate, however, is its role as a major excitatory neurotransmitter in the brain. Neurotransmitters are chemicals in the brain that allow signals to be conveyed from one neuron to another. Excitatory neurons can activate certain cells, while inhibitory neurons do the opposite. Glutamate is especially important for such functions as memory and learning.
Most Common Neurotransmitter
The body contains many different neurotransmitters, such as serotonin, which regulates functions like sleep and appetite, and acetylcholine, which is related to motor nerves and muscles; however, none is as common as glutamate. Almost half of the neurons in the brain are excited or triggered by glutamate. According to an article by Niels Christian Danbolt of the Centre of Molecular Biology and Neuroscience, glutamate "is involved in most aspects of normal brain function including cognition, memory and learning."
How It Works
Glutamate works as a neurotransmitter by attaching itself to cells that possess glutamate receivers. This attachment triggers the proteins in the receivers to activate and begin working. These glutamate receptors are found practically everywhere in the body, wherever there are nerve cells and glial cells. Glial cells protect and support the nerve cells. Glutamate has synaptic plasticity, which means it is able to alter the strength of its response depending on what it is being used for. This is one reason why it necessary for learning and other cognitive functions.
A Surprising Discovery
Even though glutamate's function as a neurotransmitter was known to scientists since the 1950s, it was only around the latter part of the 1970s that scientists realized that glutamate was the foremost excitatory neurotransmitter in the central nervous system. Glutamate was known to be an amino acid and necessary for functions such as synthesizing proteins and to produce energy, so it came as a surprise to many that its most important function was as a neurotransmitter.
Toxicity Levels
Surprisingly, for a chemical that is used for so many functions in the body and brain, glutamate can be toxic to neurons; too much of the substance will destroy them. Many diseases, such as Lou Gehrig's disease, are caused because too much glutamate has been produced in the body, according to a study published in a 1997 edition of the "Journal of Child Neurology." Other afflictions such as head and spinal cord injuries and certain seizures have also been linked to too much glutamate. Scientists are researching ways to lessen the effects of an excess amount of glutamate in the body.