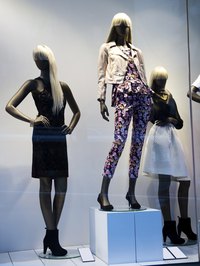 The success of your retail store turns ultimately on sales. As you prepare for the grand opening, you need equipment that attracts customers to your store and its wares, tracks their purchases, manages cash and combats thieves. You can trim the costs for startup equipment by focusing on the essential functions rather than the extras.
Taking Card Payments
Plastic is the preferred choice of most consumers, according to an April 2014 survey by the Federal Reserve Bank of San Francisco, with 43 percent favoring debit cards and 22 percent choosing credit cards. According to "Business News Daily," cash will account for only 23 percent of purchases by 2017. Depending on the features and where you buy, credit and debit card readers start under $10 but can run above $200. The costs of a merchant services account, or middleman between you and the cardholder's bank, include an average $25 monthly service fee, an average $15 per month for statements and a gateway fee of $5 to $15. Federal law places the ceiling on transaction fees at 21 cents plus 0.05 percent of the transaction value.
Managing Cash and Sales
Cash registers don't merely hold currency or display prices. These machines calculate customers' total bill, including the sales tax, print receipts and track your sales. Cash registers typically cost between $200 and $850. To track your inventory as it sells, you can invest in a point-of-sale system that comes with software, cash register and card reader or terminal. The systems, usually starting at $1,500, are well-suited for retailers such as grocery or hardware stores that sell high quantities of standard products. Turn to the less expensive cash register if you sell in smaller volumes or carry custom-made or specialty merchandise.
Showing Your Selections
The space of your store and type of offerings should guide your displays. For example, a 360-degree case or rack and wall-mounted shelves and hangers afford you more room in tight quarters. If you're a clothes or fashion retailer, consider racks, hangers and mannequins. Display cases help secure fine jewelry, precious metals and potentially dangerous stock, such as weapons. You can reduce your display expenses by finding used racks, cases, tables and shelves. Grocery stores need freezers and refrigerators to keep certain foods frozen, fresh and sanitary as they are displayed. While the prices of units vary by condition and features, you can usually expect to pay at least a few thousand dollars.
Lines of Communication
The prevalence of computers, Internet and mobile devices steers customers to online shopping and ordering to save travel time and expense. Wireless and Internet modems allow your business to receive these orders. Your telecommunications equipment should include telephones to field orders and questions about your store and its products. Install antivirus and anti-malware software to guard the data on your computer.
Fire Prevention
Check with your local fire department or fire marshal to determine whether your store must have a fire extinguisher. For example, the City of Santa Monica, California, requires retail stores to have one extinguisher for every 3,000 square feet of floor area. To protect the merchandise from theft, particularly when you're closed, consider a security alarm. "PC World" reports that you can spend as little as $300 for a panel and single sensor.