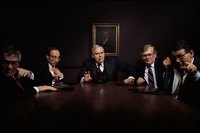 When you value a business, you are actually valuing 100 percent of its common stock, unless you've been tasked with valuing a minority interest. Dual capitalization -- the issuance by one company of more than one class of stock -- is typically done to stagger voting rights within one of the classes in order to retain corporate control over the company. When common stock is issued, each stock is allocated one vote, which is most commonly exercised during annual elections of members of the board of directors. However, a company's bylaws can be amended to allocate additional votes to a particular class.
Business Valuation
The existence of more than one class of shares with unequal voting rights does not affect the mechanics of valuing the overall enterprise. You should still proceed with the three basic valuation methodologies: the income, market and asset approaches. Once you have estimated the total market value of the company's common shares outstanding, you need to interview management, if possible, and examine any corporate documents that provide insight into the true economic cost to the shareholders of the non-voting shares.
Discount for Lack of Voting Rights
Value associated with voting rights can be highly situational. For example, a typical individual investor in a large, publicly traded company such as Microsoft may notice that his votes matter extremely little with respect to various voting actions taken by all shareholders. However, a shareholder of a private company with only several shareholders may benefit more from holding voting rights. When you value the company's common stock on a per-share basis, apply a discount for lack of voting rights to the non-voting shares. Based on empirical studies, these discounts are typically between 3 percent and 5 percent. This percentage is simply deducted from the per-share value of voting shares.