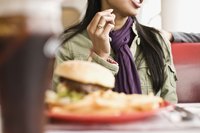 A number of physiological factors can affect how much you eat. These factors help explain why many elderly individuals are at risk for malnutrition as well as why some people have trouble eating less so they can lose weight.
Feelings of Hunger
Hunger, or lack of hunger, is one of the main physiological factors affecting how much people eat. Elderly people sometimes eat less because they have decreased appetites and tend to feel full after eating less food. On the opposite end of the spectrum, you may tend to still feel hungry after you've eaten the appropriate amount of food to maintain a healthy weight. If so, try eating more foods that have a lower energy density, which means fewer calories per gram. These foods, which include many fruits and vegetables, allow you to eat a greater volume of food without going over your calories, and this can increase feelings of fullness. Eating more low-fat protein foods may also help you feel fuller after eating, according to an article on the European Food Information Council website.
Health Problems
Health problems also affect how much people eat. Some of the risk factors associated with malnutrition in the elderly include having a physical disability, an infection or dental problems; experiencing trouble chewing or swallowing; or having any number of diseases, including cancer, diabetes, Parkinson's disease, emphysema, a gastrointestinal disorder or arthritis, according to an article published in the "Postgraduate Medical Journal" in January 2006. The medications necessary for treating health problems can also have side effects, including nausea and loss of appetite, that affect how much people eat.
Senses of Smell and Taste
How many times have you smelled something delicious and decided you wanted to eat that food because of the enticing aroma? The appealing smell and taste of foods can make you more likely to eat more of them, or eat them when you aren't particularly hungry. However, as people get older, they may experience a reduction in their ability to taste and smell. This can make it more likely they'll eat a smaller amount of food. They'll also be less likely to spontaneously eat between meals.
Hormone and Genetic Considerations
Some relatively rare types of genetic conditions can make you more likely to eat too much and become obese, but these conditions are present in less than 10 percent of obese people, according to an article published in "Nutrition Reviews" in January 2011. One such condition affects the levels of leptin, a hormone that controls feelings of fullness, making you more likely to eat more than you need. Another involves glutamic acid decarboxylase, which can make you more likely to overconsume carbohydrates. A sensitivity to bitter tastes and a preference for sweet tastes may also be genetic and increase your risk for eating too much. People sensitive to bitter tastes may tend to avoid many healthy foods, such as grapefruit and kale, which are somewhat bitter, choosing foods that are higher in calories instead.