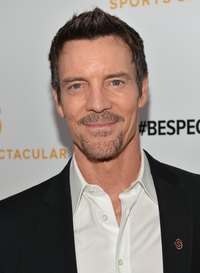 Before P90X was launched in 2004, Tony Horton was approached by executives from Beachbody to put together a mastermind group of fitness experts to showcase different workouts in the yet-to-be-filmed video series. Tony immediately responded with the names of some experts he knew, like Wesley Idol who would bring the martial arts aspect into the production; and Dreya Weber, who had a solid gymnastic background. For others like Eric Stolhanske, the opportunity to appear in the series came in the form of a flyer on the wall of his gym. People who answered the casting call were the "test group" who met six days a week for 90 days. Eric was then approached by Tony to be one of the workout partners in the P90X video series. The cast of the P90X videos are the program's workout partners and like Wesley, Dreya and Eric, have varied areas of expertise.
Tony Horton
Tony Horton is the creator and promoter of several fitness programs, including P90X. Horton is a trainer who has worked with celebrities and professional athletes, as well as everyday people, and has 20 years experience. He heads every workout, explains the moves and often demonstrates them, as well. Horton populates his training videos with several of his friends -- all fitness enthusiasts.
Erik and Phil
Erik Stolhanske is one of the recurring cast members of the P90X videos, yet he works mainly in the entertainment industry. He is a member of the Broken Lizard comedy group and has credits on multiple films, including "Super Trooper" and "Beerfest." Additionally, Phil Maltin is an experienced attorney who runs seminars on exposing liars and lives on the West Coast.
Wesley and Joe
Wesley Idol is a a fifth-degree black belt, with more than two decades of Kenpo experience. Idol also has significant knife experience, having studied under knife master Michael Pick. Joe Bovino is originally from New Jersey and is now a lawyer in three states.
Pam and Dreya
Pamela Moore is nicknamed "Pam the Blam" by Tony Horton. Moore is a private investigator and also served in the Air Force. Dreya Weber is an accomplished aerialist and acrobat. Weber has also worked in the entertainment industry, with a role in the movie "The Gymnast," and performing alongside artists like Britney Spears, Madonna and Pink.