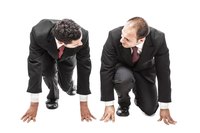 As Americans, we seem to thrive on competition, whether in sports or in a free market economy. Competition occurs within companies, as well. While some employees thrive on internal competition, others may find it paralyzing. For still other employees, effects may depend on the type and duration of the competition.
Up or Out
Many companies, such as PepsiCo, Goldman Sachs and General Electric, have used policies called "rank and yank" or "up or out." In these systems, the top performers are rewarded, such as being made partner, while others -- such as the bottom 5 percent each year -- are fired. Some employers argue that this type of competition encourages peak performance and that those who are let go often find good jobs elsewhere. Others, however, argue that just the thought of being ranked may cause fear among employees, actually inhibiting performance. Those performing near the bottom may just check out, therefore producing little, according to Fortune. One positive of a rank and yank system, however, is that it forces managers to actually assess and provide feedback to employees.
Distrust
Internal competition, especially situations where the winner receives a large award and nonwinners can face job loss, also can negatively affect productivity by focusing all of employee energy around individual achievement. Competition can become engrained in the corporate culture, and employees might resort to backstabbing and one-upmanship rather than self and bottom-line improvement. Employees learn to distrust each other and hoard information rather than to share it, according to Bloomberg Businessweek.
Lighthearted Fun
The desire to win, however, can be a powerful catalyst. A lighthearted competition around reaching a goal can be good for company morale, especially if team members already have a strong sense of camaraderie. In a friendly competition, the prizes aren't huge, and no one feels like they've let down the company if they don't win. Competitions also become more positive if everyone who meets a goal wins a prize or bonus, rather than only the top performer. A competition that lasts more than a few months, however, may bore or tire employees, causing them to give up prematurely.
Team Competition
Some companies establish competitions that reward employees based on the performance of the whole team. One theory is that the desire to win will motivate employees to work hard, and that they will collaborate rather than compete against each other. The flip side is that divisions actually may develop between stronger versus weaker members. At best, this may leave weaker members to flounder without direction, and at worst it can cause resentment between the two sides.