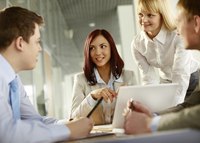 A company adopts some human resource strategies to address particular skills deficits so the lack of workers with particular expertise does not place the business at a competitive disadvantage. If the company identifies gaps in talent, it will develop a strategy to mitigate the shortage of qualified workers, such as offering a better compensation package or adopting a flexible work-force policy. This latter approach may enhance a company's ability to attract qualified talent and offer other benefits, but it has a downside.
Enhanced Employee Engagement
A 2013 study conducted by World at Work, a nonprofit human resource association, found that workplace flexibility had a positive effect on employee engagement, motivation and satisfaction. Whereas 64 percent of the 834 survey respondents stated that flexibility programs had a positive influence on employee engagement, 65 percent confirmed that these programs also positively affected employee motivation. In turn, 73 percent of those surveyed found that the flexibility programs influenced employee satisfaction in a positive manner.
Increased Access to Required Skills
Smart companies recognize that business success is more likely when talented employees can be hired and retained. Good talent-management policies, such as a flexible workplace policy, let a company quickly pursue new business opportunities by allowing it to promptly address talent needs. For example, by aligning the goals of the company with the preferences of employees, a flexible workplace policy enables recruiters to attract a larger set of high-quality candidates from which to hire.
Increased Support of Strategic Objectives
Positive and negative work-force changes affect a company's ability to achieve strategic objectives. Consequently, to successfully compete in its chosen markets, a company must anticipate those changes and the effects of the changes on the way it conducts its business. A report published by Price Waterhouse Cooper, "Meeting Tomorrow's Workforce Needs: Flexible Workforce Arrangements," states that employees increasingly seek flexibility at work. To remain competitive in the job market and attract the top talent needed to support strategic objectives in innovative and productive ways, a company may benefit from implementing flexible work-force arrangements.
Decline in Productivity
A flexible work-force policy intended to improve productivity may have the opposite effect depending on the individual employees selected to fill particular positions and affected by the policy. According to the Reference for Business article "Flexible Work Arrangements," some employees may be distracted by non-job-related issues or objectives rather than working a full day. The ability of an employee to alternate his actual work hours may have a negative effect on the customer experience if the lack of consistent hours means it takes more time to respond to a customer's request or resolve a customer's problem.
Inconsistent Implementation of Policy
Policies, including flexible work-force policies, require careful planning and implementation to accomplish their intended objectives, according to Kent Weaver of the Brookings Institute. Poorly executed flexible work-force policies can damage employee morale rather than enhance it. Only some implementation issues can be predicted, Weaver said, while others, including policy interpretation, may receive little attention. Issues that might negatively affect the implementation of flexible work-force policies include a company's culture, inappropriate technology and insufficient financial resources.