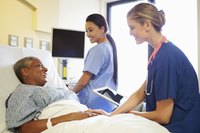 Nurses working in hospital patient care units normally check on their patients throughout the day. But because of heavy workloads, the check-in may be little more than a peek in the door unless the call light is active. Hourly rounding is a structured patient check method that ensures all patients are seen regularly by a nurse or nursing assistant once each hour. Hourly rounding improves patient care while reducing the number of call lights to which a nurse must respond.
Need for Hourly Rounding
Nurse rounding began in the 1980s in response to patient and physician complaints about slow response times to call lights and lack of attention to patients. It took on new urgency in 2008 when Medicare stopped paying for health care services for problems that could have been prevented, such as patient falls and pressure sores. Hourly rounding is a proactive way to prevent these problems, and it reduces health care costs and improves both patient and physician satisfaction.
Use of Call Lights
The Studer Group conducted a study in 2005 on the frequency of call light requests in hospitals. Data showed that patients used the call light to request bathroom or bedpan assistance, pain medication, positioning assistance or for help with an intravenous line problem or pump alarm. The hourly rounding protocol addresses these concerns on a regular basis, thus reducing the number of call light requests. At one participating hospital, nurses wore pedometers before and after implementing hourly rounding and found that it saved steps and time. Before implementation, nurses walked an average of 5.2 miles per day; afterward, the average distance dropped to 4.3 miles.
Hourly Rounding Protocol
Generally, nurses and nursing assistants share the responsibility for hourly rounding, with nurses making the rounds on even hours and nursing assistants on odd hours. In some hospitals, rounding during the night is limited to once every two hours to minimize sleep disruptions.
When the person rounding first enters a patient room, she introduces herself. Then she performs regularly scheduled tasks, such as giving medications. She addresses the five P's: pain, potty, position, possessions and prevention. This is followed by patient comfort and environment assessments. When the nurse completes these tasks, she asks the patient if he needs anything else. After taking care of any needs, the nurse tells the patient when she or the nursing assistant will return. She then documents the hourly visit in the patient's medical record.
The Five P's
The five P's are questions that every patient is asked on each hourly round. These questions assess the patient's current condition and identify opportunities to prevent problems. Pain level is assessed by asking the patient to rank his pain on a scale of 1 to 10, with 1 being the lowest level. The second P (potty) focuses on the patient's bathroom needs. Possible pressure ulcers are addressed through questioning about the patient's position or comfort. Perceptions include asking the patient if he needs the phone moved, the lights adjusted or personal items placed closer. Prevention focuses on checking equipment to ensure it is working correctly and asking the patient if he needs anything so he doesn't fall trying to get it himself.