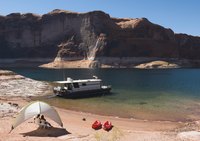 A houseboat is a boat that has been primarily designed as a dwelling, rather than as a means of transportation over water. If you've ever dreamed of falling asleep to the gentle sway of a boat and waking up right on the water, a houseboat may be the right home for you. Unless you have loads of cash sitting around, however, you'll likely have to finance the purchase.
Marine Mortgage
A wide variety of lenders offer marine mortgages. These products work a lot like traditional mortgages, except that the collateral is not a traditional home, but rather your houseboat. Typically, such loans are for terms of 20 to 25 years, with rates similar to what you would get for a home mortgage. If you are attempting to buy a used houseboat, finance companies sometimes require that you subtract the age of the boat from the term of the loan, which may make it necessary instead to buy new or almost new.
Boat Loan
Whereas a marine mortgage is more like a home mortgage, a boat loan is more like an RV loan. Thus, the terms are likely to be shorter and the interest rate higher than with a marine mortgage. They also typically require 20 percent down. Thus, a boat loan may be unaffordable unless you're putting a lot of money down or you're purchasing a small, older houseboat that doesn't come with a hefty price tag. Some houseboats can be purchased for as little as $10,000.
Considerations When Buying Used
When you're financing an older houseboat, the finance company will likely require you to get a marine survey. This is similar to the inspection you would get when purchasing a traditional home. A boat survey will tell you -- and the lender -- about the boat's general condition and any repairs that need to be made. The lender will use the survey results to determine how much you will be required to put down and the term of your loan. Typically, the worse the condition and the older the houseboat, the less favorable the terms of your loan will be.
Other Financial Considerations
Just because you can get financing for a houseboat doesn't mean you should. Look at your finances carefully to ensure you can afford the expense of a houseboat. In addition to your monthly houseboat payments, you'll have to pay the marina where you keep your houseboat. Depending on where you live, this can be even more than your houseboat payments. Additionally, water is corrosive, so you can expect to always have some maintenance expenses.