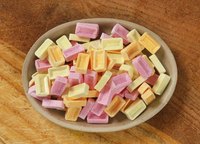 PEZ candies -- tiny, colorful rectangles tucked in a plastic dispenser -- are a favorite treat for kids. Although the candies are fat- and sodium-free, they are almost entirely refined sugar. One roll contains 35 calories and 9 grams of sugar. Save PEZ candies for the occasional treat.
PEZ Ingredients
PEZ candies are made primarily of sugar, corn syrup and three types of oil -- palm kernel oil, palm oil and soybean oil. They also contain artificial flavorings including raspberry, orange, cherry and chocolate, as well as dyes to give the candy color.
Allergen Precautions
The PEZ website states that the candy does not contain any of the eight main allergens: tree nuts, peanuts, milk, eggs, shellfish, fish, soybeans or wheat. Additionally, the company only processes one product, so there is no risk of cross-contamination.