Kilauea is the youngest of five volcanoes located on the Big Island of Hawaii. In Hawaiian, the word Kilauea means "spewing" or "much spreading." It was aptly named as Kilauea is Hawaii's, if not the world's, most active volcano. According to legend, Kilauea is home to Pele, the Goddess of Fire.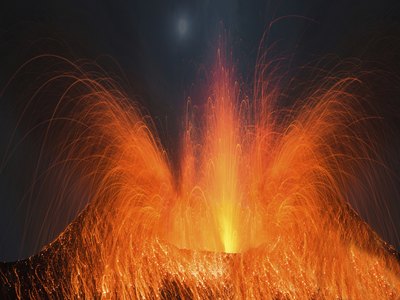 Formation
While it is impossible to pinpoint an exact date, geologists estimate Kilauea began to form on the ocean floor 300,000 to 600,000 years ago. Kilauea is classified as a shield volcano. Shield volcanoes are recognized by their large mass and gentle slopes. The volcanoes are formed by the liquid lava that flows from their vents. Because the lava is liquid, it does not accumulate in high mounds. Instead, it spreads for great distances before it cools and hardens. This creates the fan and circular patterns that create the appearance of a warrior's shield.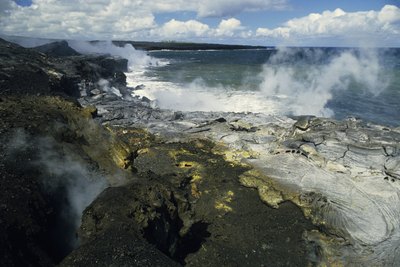 Presidential Visit
President Roosevelt visited Hawaii in July of 1934, making him the first acting president to set foot on the island. During his stay, he visited the crater of Kilauea. In honor of the Hawaiian legend, he offered a bunch of ohelo berries to Pele, the Goddess of Fire. Whether or not his offering pleased the goddess is unclear, but Kilauea coincidentally erupted in September that same year. The volcano did not erupt again until 1952.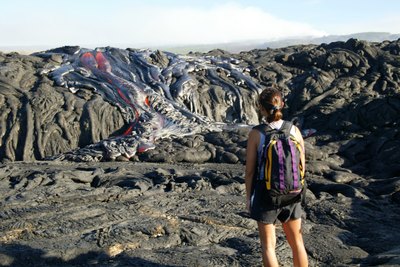 Eruptions
Known as a "Drive-in" volcano due to the relative safety and ease of approach, Kilauea's eruptions have not always been docile. In 1790, approximately 80 Hawaiian warriors and their families were killed at the base of Kilauea when it erupted. The famous eruption of 1959 is said to have produced lava fountains spewing as high as 1,900 feet in the air, or three times the height of the Washington Monument. The most recent eruption began on January 3, 1983, and has continued to the present day, earning Kilauea the ranking as one of the world's most active volcano.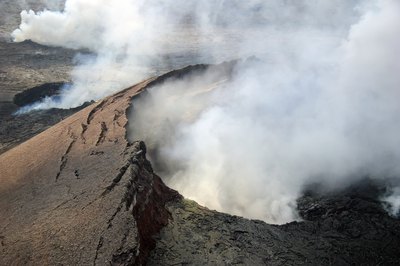 Lava Flow
It is impossible to determine the exact amount of lava and land mass created by Kilauea. It is estimated that since the beginning of the 1983 eruption, Kilauea has added an average of 42 acres of land per year to the Hawaiaan landscape. The growth has not been without casualties. Hundreds of homes have been destroyed, as has the Wahaula Visitor Center located in Hawaii Volcanoes National Park. Highways have been closed due to lava flow. Perhaps hardest hit was the area of Kalapana when the famous black-sand beach was covered in lava in 1987 and the village was destroyed in 1990.