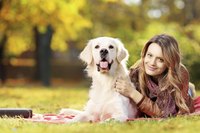 Labrador retrievers are a favored dog breed for families and the sporting community. While they come in three colors, black Labrador retrievers, also known as black labs, are the most popular. Labs are susceptible to various inherited health issues that can affect overall life quality. Labrador retrievers can acclimate easily to mild climates but should live indoors with the family to ensure their health and safety.
Joint Disease
The painful conditions known as hip and elbow dysplasia are common joint diseases Labrador retrievers can inherit as a result of improperly formed joints. Each condition can cause pain, arthritis, instability and mobility difficulty. Hip and elbow dysplasia conditions are treatable with surgery. Your veterinarian also may prescribe oral medications, supplements and joint injections to combat the disease.
Heart Disease
The American Kennel Club Canine Health Foundation states that Labrador retrievers are prone to an inherited heart condition known as tricuspid valve dysplasia. This disease causes a dog's heart to work harder, sometimes leading to the right side of the heart becoming enlarged, and possibly causing congestive heart failure. There is no cure for this condition. Your veterinarian may prescribe a diuretic to remove excess water from your dog's body, and digitalis, which helps strengthen the heart's contractions. Veterinarians recommend diets low in sodium and will suggest that you restrict your dog's activity.
Muscular Disease
Labrador retrievers can be affected by and even become carriers of the muscular disease, centronuclear myopathy. Previously called Labrador muscular myopathy, symptoms of this disease can show up in affected puppies within a few months of birth and include fatigue and difficulty walking and eating. Another genetic muscle abnormality that can affect labs is exercise-induced collapse. This disease also is passed on genetically; symptoms include lack of coordination and muscle weakness. This disease can be life-threatening and cause a Labrador to collapse if he participates in a strenuous activity or form of exercise for too long.
Eye Disease
Labs can suffer from an eye disease known as progressive retinal atrophy that eventually leads to blindness. It too is an inherited condition. When a dog has this disease, the retina stops developing and its light receptors begin degenerating prematurely. With progressive retinal atrophy, both of your dog's eyes can be affected. Night blindness will be the first symptom. You may notice your dog does not want to navigate hallways or stairs. As the disease progresses, daytime light will affect his eyesight, as well, causing pupil enlargement and dilation.
Ear Infections
Labrador retrievers are a breed that has longer, floppy ears that can trap warm air and moisture in the ear canal. When this occurs, it becomes a breeding ground for dirt and bacteria and without proper care, will lead to an ear infection. Cleaning your lab's ears multiple times a week with a veterinarian-recommended ear wash and cotton can help prevent infections. However, if you notice any redness, brown discharge or foul odor on the inside of your dog's ear, take him to a vet immediately to get professional treatment with antibiotics.
Cancer Risks
Labs are a high-risk breed for developing cancerous mast cell tumors, according to experts at the Pet Cancer Center in San Jose, California. Labrador retrievers will have more aggressive tumors that may appear on the dog's skin, in the digestive tract, mouth or nose or the lining of the lungs. Skin mast cell tumors are the most common type of tumor and may be visible on a Labrador's limbs or trunk in the age range of 8 or older. While most tumors are a single mass, the disease can spread and show up as multiple tumors in various areas of the skin and inside of the dog's body.