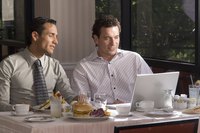 "Cost per thousand," or CPM, is one of the ways online advertising buyers pay you: You get a set rate for every thousand times someone views an ad on your site. Whether one visitor can see the ad several times or the ad appears once for each visitor depends on the terms of your advertising agreement. Your site's popularity and the advertisement's profitability are among the factors that influence CPM rates.
Popularity Pays
CPM rates aren't based on how many site visitors click on the ad or buy the sponsor's projects. Advertisers may still take those figures into account when setting rates. If none of your visitors click or buy, the advertiser may decide high rates aren't justifiable. For example, if 10 percent of your visitors click on an ad, and 10 percent of the clickers buy something, the ad is much less effective than if the rates are 60 and 30 percent.
Area of Interest
Tech startup adviser Andrew Chen says even without specific data on click rates, general rules of thumb dictate which sites are worth a high CPM. Websites based in the United States do better than, say, Russian or Brazilian sites. If your website is a general-interest one, your CPM is probably lower than if your site spotlights a highly specialized topic. Another factor is your visitors' intentions. If, say, you offer shopping advice, you're probably drawing visitors wanting to buy stuff, which makes you a more desirable ad partner.
Supply and Demand
The sheer quantity of websites, YouTube channels and online magazines gives advertisers nearly unlimited options for placing ads. Unless there's something special about your site, advertisers may not see any reason to pay much when they can go somewhere else. Advertising on YouTube exceeds $5 billion. Because so many videos are posted every day, however, it's hard for any one video channel to make money. Some videos even go up without ads because, at the time of publication, YouTube isn't buying enough advertising to place everywhere.
Your Business Associates
Some advertising networks just pay out more for CPMs than others. Some pay quite well, others much less. Likewise, some businesses simply don't budget as much for advertising as others, so the CPM rate they're willing to pay is lower. It's possible that switching to a different network would generate better returns for your ad space. Upscale networks can afford to be picky though, requiring, for example, that you generate at least 500,000 monthly page views.