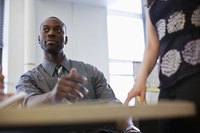 Nearly half of United States workers can't discuss salary information without retribution from the employer, according to a 2014 study from the Institute for Women's Policy Research. Why would employers want their workers to keep tight-lipped about how much they earn? Reasons include faulty employee competition, interview negotiations, preventing competitors from poaching employees and wage discrimination.
Prevent Faulty Employee Competition
Revealing the salaries of all staff members allows people in similar jobs to compare personal earnings. How could that prove a problem? Management positions would have an obvious pay advantage over lower-ranked employees and that should not cause much of a stir. The problems start when two employees with essentially the same job responsibilities have different salary levels -- and that disparity would not necessarily come from unfairness on the company's part. One employee can have more time with the company to have accrued raises or come to the job with a specific, highly sought skill or accreditation that the other employee lacked. Revealing salary information could make the lower-paid employee feel undervalued or the higher-paid employee the target of coworker resentment.
Create a Negotiable Interview Process
Some government employers must publicize the job's salary before hiring a candidate, but for most jobs in the private sector, the number can remain secret at the beginning of the interview process. Job listings often state "salary commensurate with experience" or "competitive market rate" for positions where the salary needs to stay secret upfront.
Not publicizing the salary has its pros and cons. Potential applicants could turn away from a job that fails to provide a salary range with the thinking that the company must underpay if it won't reveal the salary. On the plus side, both sides during the interview process have some negotiating room as to the final salary. The company can offer more money to a person with more experience or better credentials than was foreseen during the posting of the job listing.
Prevent Competitors from Luring Away Employees
Competing companies within the same industry often have at least a ballpark idea of how much the other companies pay. Keeping salary information secret prevents the competition from having the exact numbers paired with the job titles and descriptions. If Company B wants to hire some of Company A's talent, and Company A has revealed its salary information, all Company B has to do is offer more money to the right people. Company A could end up losing a substantial amount of its workforce no matter how competitive its salaries were.
Allows for Wage Discrimination
Keeping salary information secret also holds the potential for wage discrimination based on gender, race or sexual orientation. The 2009 Lilly Ledbetter Fair Pay Act tightened the laws regarding wage discrimination, but the practice can still occur. When a company doesn't disclose the salaries of its employees, those suffering wage discrimination might not even know it's happening.
Wage discrimination's continued existence is proven by the fact that female workers face greater repercussions than males for discussing salary information. According to the Institute for Women's Policy Research survey, 51 percent of women in private-sector jobs reported an inability to discuss salaries compared with 47 percent of men. Those numbers drop to 18 percent and 11 percent, respectively, when employees work for public-sector jobs, where salary transparency is more common.