When planning the ideal vegetable garden, it's something of a no-brainer to include more than one kind of cabbage (Brassica oleracea var. capitata). Not only is this cool-weather crop hardy and easy to grow, but it's also highly nutritious and versatile in the kitchen. Most cabbage cultivars fall into two general categories, depending on when they're ready to harvest – early in the season varieties or late in the season. By planting one from each group, you'll enjoy a flavorful crop all season long and then some.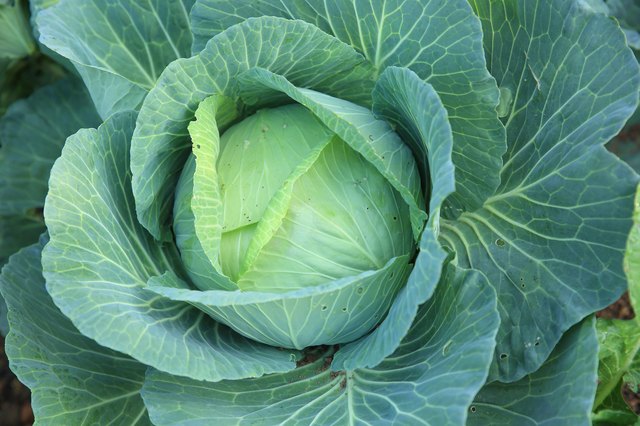 Early-Season Varieties
Early-season cabbages – sometimes called spring cabbages – are planted earlier and mature faster than other kinds of cabbage. Most early varieties can be sown from seed indoors eight to 10 weeks before the last frost and transplanted to the garden as soon as you can work the soil, or approximately three to four weeks before the last frost date in the area. Early cabbages grow quickly – most take less than 100 days to go from seed to harvest – and tend to be smaller than late-season varieties.
Warning
It's best to harvest early-season cabbages when they're about the size of a softball; early varieties allowed to grow larger won't be as tender or as flavorful.
Top performing varieties include:#
'Early Jersey Wakefield' is one of the quickest growing cabbages available, requiring just 60 days to mature. Weighing an average of 2 to 3 pounds, this hardy, compact variety produces mild-tasting, smooth light green foliage and a pointy head that resists splitting. It grows as an annual in U.S. Department of Agriculture plant hardiness zones 3 through 9.

'Dynamo' is an early round-head, smooth-leaved green cabbage that ripens 70 days after sowing. Like many early varieties, its interior leaves are softer and juicier than slower-growing cabbages, making it just as appealing in a fresh salad as it is in a cooked dish. 'Dynamo' is more heat tolerant than other varieties, and grows as an annual in USDA zones 3 through 9.
Tip
Consume or use early-season cabbages when you harvest them as they don't store well.
Late-Season Varieties
Late-season cabbages, also called overwintering or storage cabbages, tend to be larger and slower-growing than early varieties – typically taking longer than 100 days to go from seed to harvest. Most late-season cabbages should be in the ground by late spring or early summer for harvest in the fall, although some varieties can be planted as late as mid-summer. Late-season cabbages are generally firmer, drier and less tender than early varieties, which is what allows them to stay fresh in cold storage for several months after being harvested. You can harvest late-season cabbage as you would early varieties, by carefully cutting it from the stalk. If you plan to store it, however, you can simply pull it from the ground, roots and all.
Top performing varieties include:
'Storage No. 4' is a flavorful, crisp-leafed round variety that holds up well under weather stress. It's firm enough to eat after about 75 days, but if you allow it to mature for more than 100 days into mid-fall, it can grow as large as 8 pounds. Although green cabbages generally don't store as well as red ones, 'Storage No. 4' is an exception – it keeps well for up to eight months in the proper conditions. It grows as an annual in USDA zones 3 through 9.

'Ruby Perfection,' a red, round, smooth cabbage, is more of a mid-late season cabbage, meaning it's sown mid-summer and ready for harvest about 80 days later. An average head weighs between 3 and 4 pounds, and it tastes similar to green cabbage. 'Ruby Perfection' stores very well and, like other red cabbages, adds color to salads and slaws. It grows as an annual in USDA zones 2 through 11.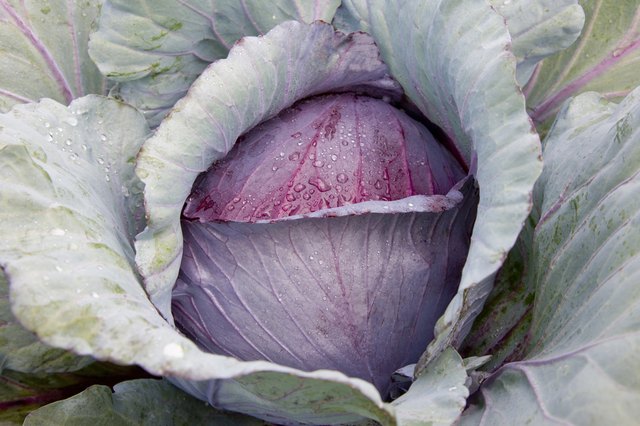 Warning
Late-season cabbages are more prone to splitting than early-season varieties, partially because those destined for storage are more likely to be harvested as late as possible. To avoid split heads, harvest late-season varieties when they feel firm.
Growing Conditions
All cabbages, whether they mature early or late, thrive in the same basic growing conditions: full sun for the best yield, fertile, well-drained loam soil with a pH of 6.0 to 7.5 and consistent moisture.