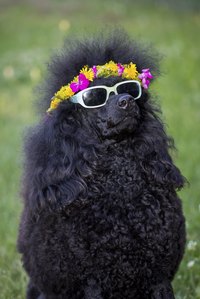 The breed commonly called the French poodle is officially called the standard poodle by the American Kennel Club. The breed's pleasant disposition, obedience, intelligence and eagerness to learn make the poodle a highly adaptable pet for most households.
Three Sizes, One Breed
The American Kennel Club first recognized the poodle in 1887; today the AKC lists the poodle as the seventh most popular breed. Although they are differentiated by three types -- standard poodle, miniature poodle and toy poodle -- they are all the same breed. Their only difference is size. The standard poodle stands over 15 inches high at the shoulders and weighs 40 to 55 pounds. The miniature poodle is between 10 and 15 inches high at the shoulders and weighs 14 to 16 pounds. The toy poodle is less than 10 inches high and weighs about 6 pounds.
German and French Background
Although often called the French poodle, the breed actually originated in Germany. In fact, the breed name comes from the German word pudel, which means "to splash in water," as they like to swim and were used to retrieve ducks and other waterfowl. France soon adopted and became fascinated with the poodle. Miniature poodles were used to snuff out truffles, a type of mushroom. Both miniature and toy poodles became entertainers because of their agility and eagerness to learn tricks. They were popular in the court of King Louis XVI, in circuses and as companion dogs.
A Rainbow of Colors
Poodles are available in 10 solid colors -- apricot, black, blue, brown, cream, gray, red, silver, silver beige and white -- as well as in two-tone combinations of these colors. Poodles are known for thick, wiry coats that shed very little. Poodle coats need professional grooming every four to six weeks to avoid becoming matted.
Smart and Sunny
According to the AKC, poodles are among the smartest breeds of dogs. While all poodles are active and should be kept busy, miniatures and toys are more active and mischievous. Just as they like to learn tricks, they can learn to bring in the newspaper, fetch slippers and other household tasks. Their pleasant disposition makes poodles good with other dogs, cats and children. They relish being included in family activities and adapt well to most living environments.
Keeping Them Healthy
Poodles are primarily a healthy breed. All poodles can experience hip dysplasia, retinal eye disease, cataracts, adrenal and thyroid conditions and epilepsy. Like other large dogs, standard poodles are prone to gastric bloat. Miniature and toy poodles may experience Legg-Perthes disease, resulting in deformity of the ball of the hip joint; and luxating patellas, or knee caps that move out of position, both of which are common in small dogs and can be surgically remedied. With proper care and activity, poodles can live 14 to 18 years.