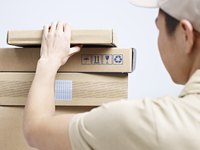 The United States Postal Service offers a low cost shipping option for educational materials and books called media mail. This shipping option can take eight days to arrive at its destination because the postal service considers it low priority. The sender can use it to save money when delivery time isn't important, since it cost about half the price of priority shipping. However, postal customers have the right to refuse any delivery.
Unopened Media Mail
Refused packages are returned to the sender by the postal service. This can take up to eight days, just like the original delivery. The customer can simply write the word "REFUSED" across the package, as long as the package was not opened or unsealed. The customer can place the "refused" package back in the mailbox with the flag up, or take it to any post office.
Opened Media Mail
Opened media mail can be refused by the customer as well. However, the customer will have to pay return postage or request return postage from the sender. The postal service will not accept a package that has been opened without return postage.