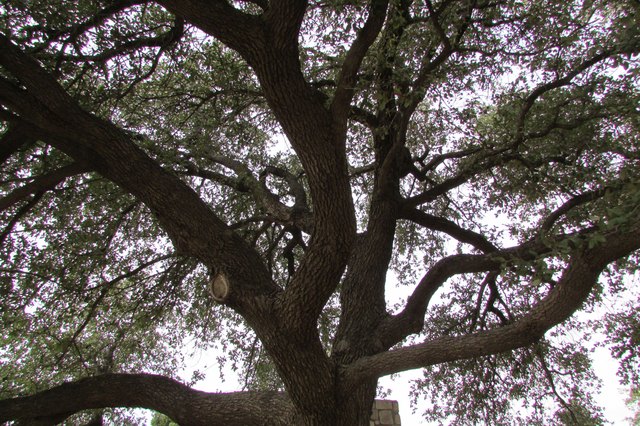 Factors Affecting Wind Resistance
Much of a tree's wind resistance comes from where and how the tree is grown. Trees planted in shallow or compacted soils, for example, are more vulnerable to wind because they are not able to develop deep, strong root systems. Trees planted alone are more vulnerable than trees planted in groups, but trees that are planted too close together are more likely to be damaged than trees with enough space to develop wide-reaching roots. Old trees, unhealthy trees and trees that have been improperly pruned are also vulnerable to wind damage.
There are, however, some tree species that, thanks to the strength of their wood, their growth habits, their root structure or other characteristics, are more resistant to wind damage than others. Many of them are well-suited to use in windbreaks, and the most wind resistant species are good choices for hurricane-prone areas.

Deciduous Trees
Among the most wind resistant deciduous trees are large trees that are able to withstand high winds because of the sheer strength of their wood and their broad, deep root systems. Some of the most wind resistant deciduous species are bur oak (Quercus macrocarpa), which is hardy in U.S. Department of Agriculture plant hardiness zones 3 to 8, live oak (Quercus virginiana), which is hardy in USDA zones 7b to 10b, American hornbeam (Carpinus caroliniana), which is hardy in USDA zones 3 to 9a, and black locust (Robinia pseudoacacia), which is hardy in USDA zones 4 to 8.
Evergreen Trees
Among conifers, spruce trees such as the Colorado spruce (Picea pugens) are especially wind tolerant because of their strong, flexible wood and wide root system. Colorado spruce is hardy in USDA zones 4 through 7.
Cypress trees such as bald cypress (Taxodium distichum), which is hardy in USDA zones 4 to 10, and pond cypress (Taxodium ascendens), which is hardy in USDA zones 5 to 11, are wind tolerant, as is eastern red cedar (Juniperus virginiana), which is hardy in USDA zones 2 to 9.
Small Trees
Some small trees, by virtue of such characteristics as multiple trunks and low-profile canopies, are particularly wind resistant. Such small species include dogwood (Cornus florida), which is hardy in USDA zones 5 to 9a, and redbud (Cercis canadensis), which is hardy in USDA zones 4 to 9.
Tropical Trees
Palm trees are typically better able to withstand damage from extremely high winds than are deciduous trees because a palm tree can lose all its fronds and still survive, as long as its terminal bud isn't damaged. However, some palm species, including pindo palm (Butia capitata), which is hardy in USDA zones 8b to 11, and date palm (Phoenix dactylifera), which is hardy in USDA zones 9 to 11, are more wind tolerant than others.

Planting for Wind Resistance
To minimize your trees' susceptibility to wind damage, plant with wind resistance in mind. Plant trees in groups but with enough space that trees are not crowded when they reach mature size. Plant on sites with at least 3 feet of uncompacted soil and a deep water table. Avoid damaging roots during construction projects, and follow good pruning practices in order to avoid weakening the tree.