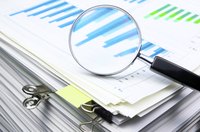 Perceptual maps are visual graphics designed to plot the relationships between different products and brands as they're associated in the minds of buyers. Perceptual maps are useful in plotting what sorts of products to associate with others, and in laying out a visual of where new products could be introduced. These maps can be used to plot almost any group of objects that can be rated on several different qualities.
Uses
Perceptual maps are used primarily for market research. They allow a company to rate the standing of different brands of a particular product relative to each other in the minds of consumers. Perceptual maps are used in creating an overview of market segmentation, and in tracking the changing perceptions toward a service, brand or product in the marketplace. Aside from branding and product measurement, they can also be used to compare things like politicians, countries and other subjects.
Structure
Perceptual maps are generally structured along a horizontal and vertical axis that cross each other. The vertical can represent two opposed qualities, and the horizontal the same, but for two additional qualities. For example, a map on the car market may have conservative versus sporty on opposite sides of one axis and affordable versus luxurious on the other axis. Based on buyer perceptions, different brands of car are placed relative to each other in the four spaces between the two axes. This gives marketing researchers an idea of where a market isn't being served or how to reposition certain brands.
Data Collection
A common means of collecting data for a perceptual map starts with a certain number of random respondents being chosen by invitation and then asked questions about a number of different products or objects. Respondents are not asked to compare the different objects which will eventually be on the perceptual map. Instead, a narrow list of important attributes (qualities) for each product or object is presented to the respondents and they are then told to rate the object or product based on these attributes.
Data Presentation
Essentially, the data collected from the product rating survey is compared based on two variations: the differences in respondents' attribute ratings among different products or objects, and the differences in respondents' attribute ratings for an individual product. These two variations are then compared against each other and averaged out against the overall ratings of all respondents in order to plot a position for a product or object on the perceptual map.