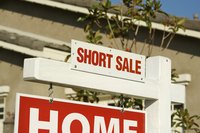 In some states, a lender cannot legally go after you if you try to repay a mortgage through a short sale, or selling the home for whatever you can get. Although states that offer debt forgiveness with a short sale are in the minority, they were some of the hardest hit by the 2008 housing crisis. Even if you do not live in one of these states, you can probably get debt forgiveness.
Non-Recourse States Offer Debtors Protection
Debt forgiveness is an issue only in recourse states. In a non-recourse state, the lender may not come after you for a deficiency balance when the short sale fails to pay off the entire mortgage. As of May 2014, the non-recourse states were Alaska, Arizona, California, Connecticut, Idaho, Minnesota, North Carolina, North Dakota, Oregon, Texas, Utah, and Washington. You could ask the lender for a short sale in a recourse loan state, but the lender is not required to forgive any portion of your loan.
IRS Can Tax Defiency Amount in Most States
In a non-recourse state, the Internal Revenue Service won't tax the amount that a lender cannot pursue. Rather, the IRS may tax you on capital gains if you sell the home for more than the purchase price. For example, if you buy a home for $100,000, short sell it for $120,000 and owe $150,000 on the mortgage, the IRS taxes you for $20,000 in capital gains. In a recourse state, if the lender forgives any part of the debt, you pay taxes on the canceled balance at your normal income tax rate. For instance, if you have a $200,000 mortgage, sell the property for $150,000, and the bank cancels $50,000 in debt, the $50,000 becomes taxable.
2007 Law Shelters Some Forgiven Debt
Most homes qualify for the 2007 Mortgage Debt Relief Act, which makes debt forgiveness a nontaxable event. You can omit up to $1 million in forgiven debt on a primary residence on your taxes as long as the lender cancels the debt by 2012. If you have capital gains, you can exclude up to $250,000 in gains in most cases on your primary residence. Some states allow a lender only one legal remedy to collect on a mortgage, such as suing for the entire balance or foreclosing. These states are California, Idaho, Montana, Nevada, New York and Utah.
Past Deductions Affect Tax Obligations
Sit down with a tax professional to calculate the taxation on a short sale versus a foreclosure. Deductions in the past may cause future tax obligations. For example, if you ever used your home for a business, you must repay the depreciation on the property even when you did not deduct depreciation of your home on your taxes. In general, however, short sales tend to incur the least amount of taxes. Getting approval for a short sale can be tough, because the bank needs a definite offer before it can make a decision on whether or not to allow the sale, and it may take weeks to actually look at a proposal.