A mind-boggling array of inexpensive pavers are on the market today, and any number of objects around the average home, with a bit of sweat equity and imagination, will serve as sidewalk pavers. So unless you enjoy the look of dull, gray, solid concrete sidewalks shooting arrow-straight through the front yard, put your creativity to work and build something inspiring.
(Jupiterimages/Photos.com/Getty Images)
The softer shapes and colors of natural stones blend harmoniously with their surroundings and, if set in sand or a ground cover instead of mortar, offer environmental benefits as well. The permeable surface of loosely-spaced cobblestone or flagstone paths absorb rainfall to prevent excessive runoff that may lead to erosion or overburden drainage systems. Using rocks from your own property also saves money and ensures that the walkway blends with other native stone and stone features in your landscape. Chose stones that match the space and intent you have in mind. Flat, relatively smooth stones offer safer walking paths than rougher rocks that may catch toes and cause stumbles.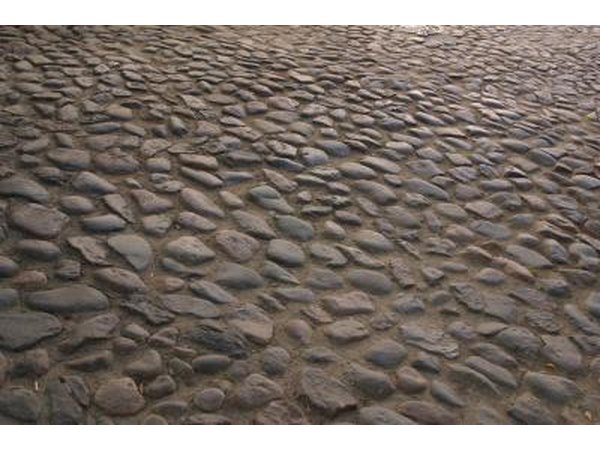 Jupiterimages/Photos.com/Getty Images
If you are handy, make your own concrete pavers using bags of concrete premix or a blend of cement, sand and gravel. Doing it yourself costs less, and you can customize the look. Purchase commercial concrete stepping stone molds, or use cardboard or plywood forms, plastic containers or baking pans as molds. Make the job even easier by excavating shallow holes directly in the soil where you want your stones and pouring concrete into those. Add colored pigments to the concrete mix, and embellish the poured "stones" by stamping, carving or brushing the surface once it begins to harden. For mosaic stepping-stones, add bits of tile, glass or other decorative items.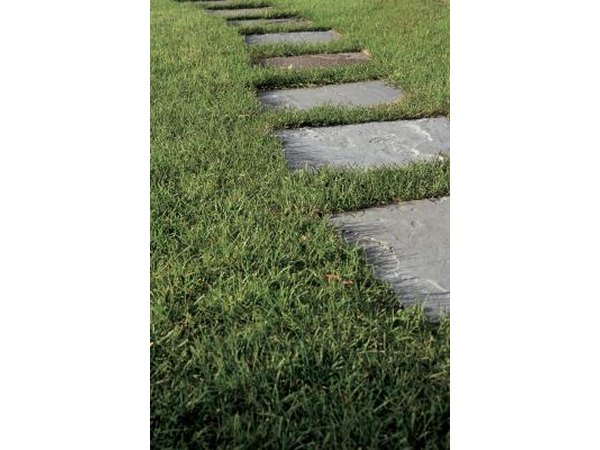 Comstock/Comstock/Getty Images
Although time consuming, a pebble path is a work of art that will last a lifetime and make an attractive addition to your home landscape. Best of all, the pebbles are free for the picking. Gather a few each time you take a walk -- especially along streams and riverbanks where rounded stones are abundant – and work on one small section or make individual paving blocks one at a time. If you have a large space to fill, buy pebble-topped pavers at nearly any home improvement store to lay for the bulk of the walk, then hand-make and decorate only the edge pavers or other select portions using the special pebbles you collect.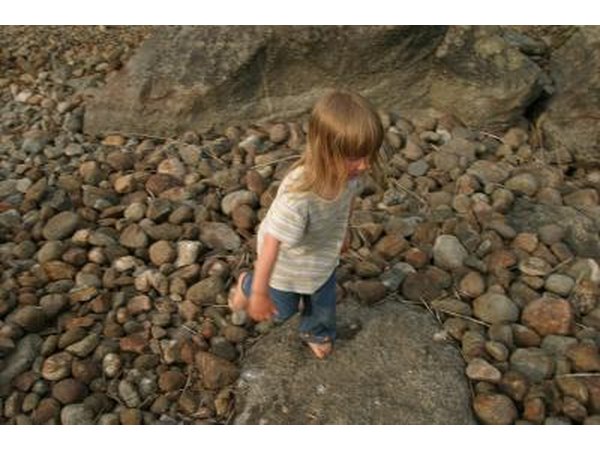 Jupiterimages/Photos.com/Getty Images
Glass bottles are ubiquitous in modern life and too easily thrown away. However, they make a sturdy recycled building material, so instead of tossing, reuse them as pavers. Merely excavate soil to the depth of the bottles you will use, invert them so the open ends face down, and set them side by side in the pathway. Sift soil to remove debris and rocks, then backfill over and around the bottles, using a broom to spread it evenly. Spray the area with a hose to encourage soil settling. Add soil and repeat as necessary to firmly pack soil to the upper surface of the bottles. If your soil is loose or sandy, add powdered clay or cement to the sifted soil before backfilling, to help hold it together, or use cement mortar between bottles.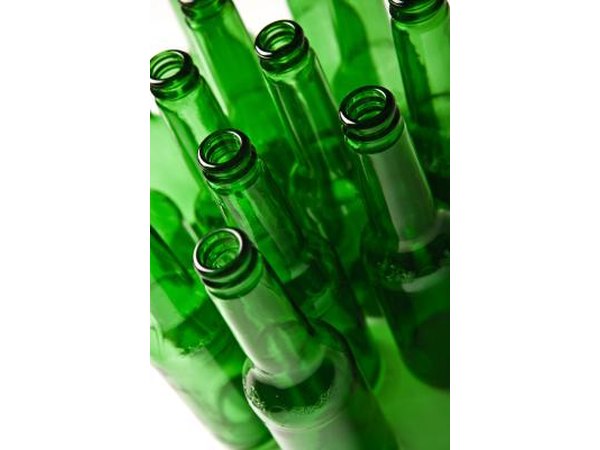 Jupiterimages/Photos.com/Getty Images
Promoted By Zergnet