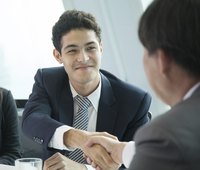 In a perfect world, hiring policies ensure legal compliance and confidentiality, examine diversity and encourage employee honesty. In the real world, however, maintaining high moral and ethical standards when recruiting and hiring new employees isn't always easy or straightforward. Just as businesses of all sizes often struggle with finding qualified employees, all often struggle with a variety of moral and ethical issues in the hiring process.
Misleading Advertisements
The Society for Human Resource Management lists misleading job advertisements and misrepresenting requirements as common moral and ethical dilemmas. These issues may arise when the candidate pool is small or when the position is less than appealing. It can be tempting to either minimize or maximize job duties, working conditions, prospects for advancement or the business's long-term growth goals in order to fill a position or attract well-qualified candidates.
The Selection Process
Without a clear hiring policy and standard hiring procedures, favoritism, nepotism and partiality can influence hiring decisions. Dr. Peter L. Koza, a school superintendent in Upper Deerfield, New Jersey, cites one example. According to Koza, a member of a candidate selection and review team not only strongly recommended a personal friend for a teaching position but went so far as to replace the top candidate's paperwork with her friend's application and tell the hiring manager that this application was considered the best by all the hiring committee members.
Diversity Concerns
Diversity by itself does not create a better workplace, but diversity with quality does. Some companies view diversity as a legal obligation while others consider a workforce composed of people with varying characteristics, backgrounds and nationalities as an ethical obligation. In the first case, hiring to fill diversity quotas without fully considering qualifications can have negative long-term effects. In the second case, life experiences and personal perceptions can lead to unconscious biases and attitudes that can influence hiring decisions.
Using Social Media
Although asking a candidate to provide personal and sometimes financial information and to consent to a background check is legal and logical, the same can't be said for social media investigations. Information on social media posts is often exaggerated and inaccurate, and while this information may speak to a candidate's character, using a candidate's social media presence -- or lack of a presence -- might unnecessarily influence a hiring decision. For this reason, the Association of Corporate Counsel recommends against giving the information obtained on social media sites much weight in making a hiring decision.