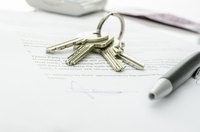 Leases represent numerous technical computations and calculations under accounting principles. Leaseholds are closely related to traditional leases. Accountants must properly account for these items on a company's balance sheet. Different parts of the transaction will tip off accountants about how to record leaseholds, which are a fixed, tangible asset.
Defined
A leasehold is typically the right to use or hold a property or another asset. Both parties use a written contract to agree upon the amount of time and cost of the item in the leasehold. As with most leases, a transfer of ownership does not occur. The lessor retains ownership while giving the lessee the ability to use the item listed in the contract.
Classification
Companies must record a leasehold as a fixed asset. This guideline comes from generally accepted accounting principles. On the balance sheet, accountants can place a separate line under the long-term fixed assets called leaseholds. The historical cost is often the basis for reporting purposes.
Journal Entries
Accountants must typically record monthly journal entries to account for the use of leaseholds. A common entry will debit an expense account and credit the leasehold account. This reduces the leasehold's value and accurately represents the use of leaseholds by a company. Other entries may be necessary based on the specific agreement between the lessor and lessee.
Purpose
Leaseholds represent a company's ability to use an item for a long period. This allows the business the opportunity to leverage the asset into profits through benefits gained from the asset. These two definitions are what make leaseholds a long-term, tangible fixed asset. Stakeholders need information on the items companies can use for several periods during their operational lifetimes.