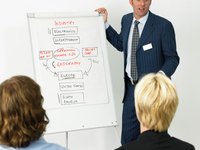 Advertising and marketing seek to capture the attention of the public by presenting products in innovative and memorable ways, yet techniques and phrases that have been found to be effective are used over and over as long as they continue to be effective. Many marketing phrases have become so common that they have entered the popular lexicon.
Leading Brands
Marketers go to great lengths to show that their product is superior to "other leading brands." Building brand loyalty is an important aspect of marketing because it ensures repeat customers and a steady cash flow. By introducing the idea of brand competition into the consumer's mind, marketers attempt to motivate buyers to identify a particular brand as better than all others.
Scientifically Proven
Marketing frequently relies on the status of science in modern society to back-up its claims of product effectiveness. Using the term "scientifically proven" creates an image of objective, trained and sincere professionals confirming the desirability of the product. This phrase is used to promote everything from cleaning products to health and beauty aids to food additives. The relatively low level of public awareness about what actually constitutes the scientific proof means the validity of this phrase is rarely investigated.
While Supplies Last
Marketers have discovered that consumers are more likely to purchase a product if they think it is difficult to get. This may be the result of a hoarding instinct, a desire to have something that others don't have or a desire to acquire something that will no longer be available in the near future. Using phrases such as "while supplies last" or "limit 3 per customer" sends the message that the product is in short supply and therefore may be acquired only by the privileged or the quick.
New and Improved
"New and Improved" reflects the value system of a society that is based on progress, and it is among the most common advertising phrases of all time. Consumers are trained through the media that new is better than old and that products are constantly improving. The message "new and improved" emblazoned on a package sends a message to the consumer that while the product has always been excellent, it is now, incredibly, even more excellent and even more indispensable for any intelligent person's shopping cart.