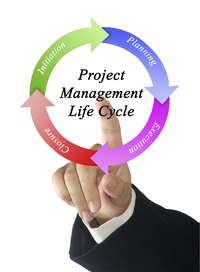 On paper, project management seems simple, since the project manager and the project team lay out a plan to achieve a specific result. In execution, however, project managers potentially face many unexpected bumps that might change the direction, or at least the pace, of their project. While project managers cannot foresee all the possible alternate routes they may face during a project, simply allowing for a certain amount of variance at the outset of the project will help them stay on course.
A Disruptive Force
Project variance is anything that causes a project to veer from its initial course. The most common sources of project variance are unexpected scheduling, technical problems and budgetary concerns. Depending on the severity of any one or more of these factors, the project's result might turn out differently from its standard, or baseline, goals at the beginning of the project.
Variance Tracking
Tracking each project's baseline against potential variance is essential in project management. Project managers set the technical, scheduling and budgetary standard for the project, then determine the variance threshold -- whether a positive or negative variance at any point in the project -- and establish a plan for either scenario. With continuous monitoring, the project manager can quickly adapt -- and help his team adapt -- to any variance requiring a change in plans.