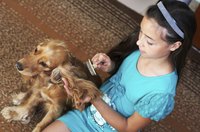 Outdoor dogs generally shed most in April and May and have a second shedding season before winter, in August, September or October, depending on the climate. Some dogs blow their coat in a fairly rapid, massive shedding and others shed more gradually. Indoor dogs, because they're exposed to artificial light and heat, tend to shed continuously. Shedding is natural for dogs. Although you can't stop your dog from shedding, a quality diet and daily brushing will help keep her coat healthy.
Hair of the Dog
Dogs grow two types of hair, the undercoat for insulation and the outercoat. The outercoat hairs, known as primary hairs or guard hairs, are stiffer than the underlying fur. The undercoat, also called underfur, is made up of secondary hairs that are shorter and fluffier than the outer hairs. Every hair in your dog's coat eventually dies, and when it dies, your dog sheds it. The dog hair growth cycle is continuous; by the time a hair falls out, a new hair is growing out of the same follicle. A dog always has the same number of hairs, but the ratio of primary to secondary hairs changes seasonally. In cold months, your dog has more secondary, insulating hairs; in warm months he has more primary, outercoat hairs.
Spring Shedding
Typically dogs do their heaviest spring shedding in April and May. In the spring, she mainly loses fluffy insulating hairs from her undercoat. Her outercoat hairs increase to take their place. The months your dog sheds most may vary depending on her breed, age, health and your climate. A change in climate, such as a move to a country with a later summer, will change her shedding patterns. If your dog is primarily an indoor dog, her seasonal shedding likely will be minimal because she'll shed year-round.
Fall Shedding
Your dog's coat reverses in preparation for winter. Although it may seem odd for your dog to be losing more hair before temperatures reach their coldest, she's preparing for her winter coat. The hair she sheds in the fall, typically in August, September or October, are the longer, primary hairs from her outercoat. She's ready for the dog version of long, woolen underwear. As she sheds the outercoat hairs, her undercoat is growing in to keep her warmer.