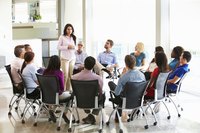 Exchange relationship marketing strategies help businesses establish long-term, profitable relationships with customers. Through a series of calculated approaches to customer interaction and high-quality service initiatives, businesses use this approach to gain the trust of customers. The strategy creates an atmosphere of mutual respect and results in shared collective benefits.
Make Customers a Priority
In an exchange relationship marketing strategy, making an on-the-spot sale is less important to a business than establishing viable customer relationships. This includes taking the time to learn about and understand customer needs, building social relationships and taking a vested interest in consumers as individuals rather than sales figures. Successful businesses accomplish this by asking questions, actively listening, keeping notes and files about customer preferences and customizing services to individual consumer needs.
Walk the Talk
Successful relationship marketing is dependent on promise fulfillment. This means follow-through on all commitments made to the customer at all levels. For example, a company that advertises itself as, "always on call" must indeed have a customer service representative available to customers around-the-clock. A business that promotes no-hassle refunds and exchanges must stick to that promise and not rely on fine print strategies to extract itself from its obligation. Making and keeping promises to customers demonstrates a commitment to follow through.
Focus on Service
Customer service is a top priority for companies using exchange relationship marketing strategies. All business functions in an organization should be customer-focused and explore the question, "How does this positively impact the customer?" Consumers should be treated with polite respect, a friendly nature and an honest approach to conducting business in good faith. The relationship should extend beyond the point of sale and include efforts aimed at ongoing customer service. Correspond with customers, engage them via social media and add value to services with follow-up calls, service reminders or product updates.
Nurture Connections
Express appreciation to consumers by developing reward programs that thank them for their patronage. An exchange relationship marketing strategy includes efforts to incentivize customers to buy again, to refer the company to friends and colleagues and to speak positively about their buying experiences. Provide special promotions and offers for valued customers, invite feedback and offer perks for those who are repeat buyers. Take a personal interest in customers and personalize communications to strengthen and build relationships.