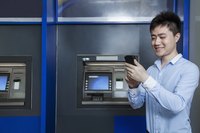 Gone are the days when banking customers were the people in the neighborhood who walked into your branch because there were few other options. Today's banking customers are sophisticated and savvy, and they have lots of choices about where to do their banking. If you want to get and maintain customers, you would be wise to consider some innovative ideas.
Build Outside Partnerships
Virtually every business guru will extol the virtues of networking and building partnerships with other businesses. Real estate agents, for example, partner with contractors, builders and designers to sell homes. Yet banks rarely establish such partnerships. Consider what services and products your bank offers and what kinds of partner businesses you could tap. If you offer business loans, for example, it means you serve business clients. And new businesses often need designers to help them craft their look and space.
Help the Troubled Borrowers
When a customer is denied a loan, the feelings on all sides are soured -- the bank sees a dangerous credit risk and the customer sees an unfeeling, large institution that turned him away. But some institutions make great efforts to help customers with less-than-ideal credit. The Navy Federal Credit Union, for example, offers turned-away borrowers financial plans and agendas to help them repair their credit. It also offers free financial literacy classes at local libraries and small programs for business customers.
Keep Up With Technology
Banking customers increasingly do their business online and through mobile technology. Today's bankers, in turn, need more than a website to stay competitive. They need apps for mobile customers and ways to make access to services easier, 24 hours a day and from everywhere. The MSU Federal Credit Union, for example, is taking a cue from Apple and introducing a Siri-like virtual assistant that understands basic voice commands over mobile phones.
Don't Be Afraid to Have Fun
A major public image problem for banks is that people see them as cold, impersonal institutions. So liven things up with some fun marketing. HSBC once famously put origami folding instructions on customers' receipts. Belvoir Federal Credit Union held an online scavenger hunt that doubled its Web traffic. BB&T Bank developed interactive games for iPads. Don't be afraid to engage in some fun.
Reward Your Customers With Cold, Hard Cash
Lots of businesses offer perks to regular customers, and banks should be no exception. One innovative approach comes from Santander Bank. Santander's Extra20 program gives customers who open Extra20 checking and savings accounts an extra $20 a month, provided the customers maintain small balances in each and pay two bills per month through the bank's online bill pay function.