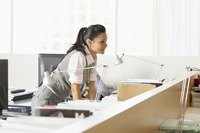 At least two books have been written in recent years outlining eight steps to eliminating workplace drama. One is "Stop Workplace Drama: Train Your Team to Have No Complaints, No Excuses and No Regrets." Another is "Boss is Not Your Mother: Eight Steps to Eliminating Office Drama and Creating Positive Relationships at Work." The two books don't have the same eight steps; you can, however, generalize from their advice.
Realign Relationships
Much workplace drama arises from treating the workplace like your family or a group of friends. Step one is to realize work is neither. If you carry personal issues or expectations and emotional needs or wounds into the office, they are likely to cause problems for you professionally. An office full of people seeking to have their needs met or wounds healed is drama soup.
Identify the Issues
Identify what emotional issues or childhood wounds you are bringing into the work situation. This might include treating your boss's approval as if she were your mother, responding to a competitive co-worker the way you do you an over-achieving brother, having romantic relationships at the office because you need love or talking to coworkers about your personal problems.
Identify the Personalities
Study your personality and the personalities of the people in your workplace. See if you can identify the "creative genius, the analyst, the peacemaker, the idealist." Each has different gifts she brings to the office that are useful for getting the work done. However, these differences can also create problems. Personality tests can help employees see how their need for things to be their way is causing problems.
Reinvent Yourself
The issues, personality traits and expectations employees bring to work are not set in stone. Change behaviors that cause problems. If you're the creative genius and it's clear that you won't be given carte blanche, stop talking negatively about the other people and figure out what you can do within the bounds of your position. Talk to your boss, if it seems wise, about how to express your creativity helpfully.
Set Goals
Figure out where you want to be, where your company wants to be and what the obstacles are to getting there. Drama tends to happen in the absence of meaningful, goal-oriented activity. If everyone is involved in deciding on a goal, the effort can shift the focus from personal expectations to corporate tasks.
Assign Roles
If you're in a position to do so, give everyone clear objectives and tasks for achieving the corporate goal. As much as possible align those tasks not only with the person's title but with what you know about their personalities. If not, make sure that your focus at work is on your responsibilities to reach the corporate goal.
Be Prepared For a Fight
People often resist change. When you try to change an organization, people often find ways to subvert that. They may declare your new demeanor phony or your new rules abusive, especially if they don't want to change themselves. Be prepared for this by evaluating your changes, writing down your course of action in advance of making big changes and refering to your document to help you stick to it.
Develop a Sense of Humor
Sadly, many business environments are like big messy families with lots of "oldest," "youngest" and "middle" children. There are the "good" ones and the "bad ones." People often don't change that much as they mature, unless they determine that they will. Develop a sense of humor about the humanness of it all and try not to validate power struggles and drama by treating them as crises.