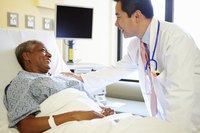 Although there is substantial overlap between the training of traditional medical doctors and osteopathic doctors, there are some underlying differences in the philosophy of healing and treatment approaches, particularly with respect to the musculoskeletal system. There are 29 accredited colleges of osteopathic medicine and 141 traditional medical colleges in the U.S. In 2014, more than 20 percent of medical school students planned to practice as doctors of osteopathy.
Philosophy and Diagnosis
Most differences between an M.D. and a D.O. stem from distinct philosophies. An M.D. practices evidence-based medicine focused on treating underlying causes of disease and related symptoms. Physical examination, laboratory testing and diagnostic imaging are the cornerstones of diagnosis. A D.O. utilizes many of the same diagnostic methods, but treatment may focus more on the musculoskeletal system -- the bones, muscles, ligaments and tendons. According to osteopathic medicine philosophy, the musculoskeletal system affects all other organ systems of the body.
Treatment
Medical doctors and doctors of osteopathy use many of the same types of treatments to manage diseases or symptoms, including medications, surgery and physical therapy. An osteopathic doctor may also use a form of therapy called osteopathic manipulative treatment. This involves hands-on manipulation of the muscles, joints and bones to relieve pain and optimize function. Doctors of osteopathy frequently use this form of therapy to treat pain disorders, although it may also be used in addition to other types of treatment for a range of conditions.
Education
Both medical doctors and osteopathic doctor complete four years of undergraduate education, followed by four years of medical training. The medical school curriculum for both types of doctors is similar, but osteopathic doctors receive approximately 200 hours of training in osteopathic manipulative treatment that is not included in traditional medical education. Both types of doctors must serve an internship, and both may specialize and complete a residency program, typically lasting three to seven years. Most osteopathic physicians choose to practice primary care medicine, with only approximately 40 percent pursuing a specialized residency.
Testing and Licensure
The admissions, testing and licensing process is difficult for both types of doctor. Both take the Medical College Admission Test to enter medical school. To become licensed in the United States, medical doctors take the United States Medical Licensing Exam, while osteopathic doctors take the Comprehensive Osteopathic Medical Licensing Exam. Once licensed, both types of doctor have the same medical practice privileges in all 50 states.