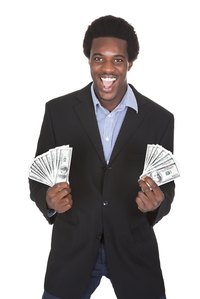 Creating compensation programs that include bonuses can be tricky, because what's best for an employee's wallet isn't always what's best for the company, and vice versa. Looking at "what if" scenarios tied to your compensation will help you spot situations that might motivate an employee to cut corners.
Fairness
Even the appearance of an unfair compensation program can have far-reaching workforce and public relations consequences. For example, a bonus program that only rewards department heads and not their support staff can lead to morale programs if the staff members feel they created the improvements for which the managers are rewarded. Excessive pay for a nonprofit CEO or a highly paid family member on the payroll can lead to a decrease in public support. Using percentage increases in output as a bonus goal might be unfair to workers who have been with the company longer, because they have less room to grow than new employees.
Performance Motivation
Paying an employee a performance bonus can lead to that staff member cutting corners to maximize his bonus. For example, if a production director is paid a bonus for reducing costs, he might decrease maintenance on machines or reduce overtime even though that extra production improves customer service. An executive director of a nonprofit who gets a bonus for increasing membership might neglect other areas of the organization, such as education or communications, to focus on membership drives.
Manipulation
Be careful when setting bonuses based on financial bottom-line performance metrics. Depending on whether the bonus is based on gross or net measurements, problems can occur. For example, during good times, a business might reinvest profits in the company to improve performance. If a manager is paid a percentage of net profits, rather than gross revenues, she might feel these expenditures are inappropriate and unfairly reduce her bonus. Unethical businesses owners use this strategy to reduce their bonus pay. Look at paying a bonus based on performance improvements, rather than bottom-line outcomes.
Fraud
Some bonuses lead to fraud, as employees fudge numbers to hit their compensation targets. This might include under-reporting expenses or over-reporting sales. This latter type of fraud is more likely to happen when an employee is leaving a company and knows the fraud won't be discovered until he's gone. Audit all bonus programs before you make payments to avoid these scenarios.
Legalities
It's said you can't legislate morality, but state and federal governments still try. One area where this is true regards health benefits, which can't favor key executives over general employees. Check with an attorney to determine whether you can offer owners, executives or other employee groups different benefits than your overall staff.