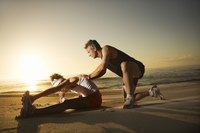 Personal trainers provide fitness instruction to individuals and groups. People hire personal trainers for a variety of reasons, including a desire to lose weight and feel better. Unfortunately, tax laws only allow for deductions for weight loss costs if a physician deems weight loss as medical necessity. If so, you can claim the deductions under the Medical Expenses portion of your tax return.
Internal Revenue Service Policy
Internal Revenue Service Publication 502 for tax year 2014 covers medical expense deductions. The IRS website states that you cannot include gym and health club memberships under medical expenses, but you can include separate fees charged for weight-loss activities at a gym or health club if your physician deems your weight loss as medically necessary due to a diagnosis of a disease such as obesity and heart disease. If you have a medical need for weight loss, make sure you get something written by a doctor before filing your taxes. IRS Publication 502 does not specifically state that personal training sessions are covered. However, personal training can be included as part of an overall weight loss plan. If you choose to claim a deduction for personal training due to a medical diagnosis, make sure your doctor has included in his opinion the need for personal training for your weight loss goals.