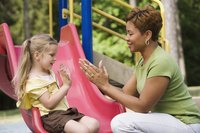 No matter how you receive payment, babysitting is a business that generates income. Because of this, the Internal Revenue Service requires you to report all your earnings from babysitting when you file your income taxes. Although reporting income is slightly easier if you received cash for an incidental amount of babysitting than if it were a year-round occupation, filing income taxes based upon your babysitting earnings is required by law. In some instances, such as if you're employed as a nanny, your employer must pay payroll taxes on your earnings.
Reporting Miscellaneous Income
If you receive cash for small amounts of babysitting performed throughout the year, even if it's paid babysitting for a relative, the IRS allows you to report it as miscellaneous income if you earned less than $400 a year on the activity. Many teenage babysitters' earnings will fall under this rule. In this case, report babysitting income on Line 21, miscellaneous income, of your 1040. These earnings are simply subject to the same income tax rate as other earnings; in the case of many teenage babysitters, the tax burden may be offset by deductions and tax credits.
Reporting Self-Employed Income
If you babysit and receive more than $400 either in cash or checks in a year, your tax situation becomes slightly more complicated. The IRS considers anyone who earns more than $400 in an activity self-employed and assesses self-employment taxes against the earnings. Using Schedule C or Schedule C-EZ to report self-employment earnings, you'll face a self-employment tax – the equivalent to payroll taxes if you worked for an employer – of 13.3 percent of all earnings up to $106,800 in tax year 2012. If your babysitting business earns more than $106,800, earnings above that threshold are taxed at a 2.9 percent rate. After you pay self-employment taxes on these babysitting earnings, you'll also be required to pay income tax.
The Nanny Tax
If your employer pays you cash to work as a nanny, a household employee with a fixed schedule who operates under the supervision of your employer in areas such as scheduling and earned more than $1,700 in a year, you're considered an employee and not subject to self-employment tax. In this case, the IRS requires your employer to make payroll tax deductions and matching contributions to your wages. The law requires your employer to pay 7.65 percent of your income in Social Security and Medicare taxes, and an additional 6.2 percent of the first $7,000 you earn for federal unemployment taxes. You're required to pay an additional 7.65 percent deduction from your own wages, although your employer may pay this amount out of his pocket if he chooses.
Exemptions to the Nanny Tax
IRS rules on household employees aren't meant to complicate the lives of families who employ a neighborhood teenager to watch their children every day after school, but rather force employers to pay taxes on full-time servants. Because of this, the IRS exempts employers and babysitters such as students from the nanny-tax restrictions if the babysitter is less than 18 years old on January 1 of the tax year, performs work in a private residence and isn't primarily employed as a babysitter. In this case, you'll be expected to report cash babysitting income as a self-employed worker or as miscellaneous income.