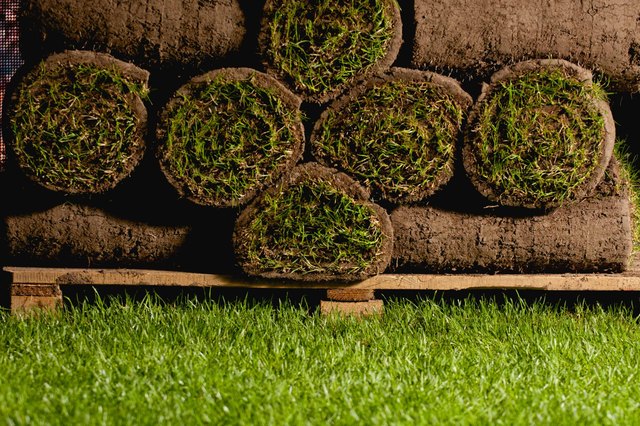 When you want a new lawn, it's hard to beat the instant satisfaction of laying down fresh, dense sod. Sod has limitations, however, that may make starting a new lawn from seed a better choice.

Timing Concerns
When you're trying to establish a new lawn from seed, choosing the correct time to seed is very important. If the seed is not planted at a time when the young plants will grow best with a minimum of environmental stress and weed competition, the new lawn is likely to fail. Depending on the climate and grass species, the ideal time to seed is usually either late summer or spring, and seeding outside the ideal window is risky.
Because sod is made up of already established plants and is virtually free of weeds, it can be laid anytime during the growing season. As long as it's irrigated properly, it will likely fare well even if it's laid in the middle of summer.
Sod also provides a thick turf as soon as it's installed. A seeded lawn, even under the best growing conditions, takes a relatively long time to form a dense lawn.

Species Flexibility
Flexibility in choosing the best grass species for your lawn may be a concern if you decide to lay sod. You're limited to the grass species being grown by local suppliers, and some sod may be made up of a single grass species rather than a mixture of species.
Grass seed, however, is usually more widely available in a range of species and mixtures. So it will be easier for you to sow seed of the precise type of grass that will be best for your lawn. Seeding also allows young plants to establish themselves in the location where they'll ultimately stay. Sod is established under ideal growing conditions in a sunny location, and it may struggle after it is installed in a less-than-ideal environment.

Cost Differences
Seeding a lawn requires selecting and purchasing seed, proper site preparation and significant maintenance after seeding, including frequent watering until the resulting young plants are well-established. Doing the work yourself, however, lowers the cost of starting a lawn from seed.
The cost of sod is higher than that of grass seed, and the installation of sod is very labor-intensive. Sufficient site preparation is crucial, and the transportation and handling of heavy rolls of sod can be a challenge. When installed improperly, a sodded lawn is likely to fail. Also, new sod requires frequent watering after its installation. All of these factors combined make the cost of establishing a new lawn with sod much higher than that of seeding.