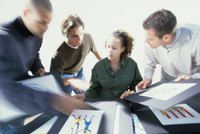 Organizations that function smoothly and efficiently have well-developed roles for their members. Workers who clearly understand what tasks are expected of them and how their work relates to the context of the business are better able to cooperate for mutual success. Organizational success involves a healthy combination of structural stability and flexibility that can cope with change.
Delegation
Competent leaders understand how to assign authority to other people, and are able to trust their employees to master their tasks. Business owners and managers who cling to too many tasks themselves, whether through an excessive desire for control or simply the desire to see things done properly, create an imbalance of power and may suffer from exhaustion and stress. The purpose of roles and work distribution within an organization is to create an equitable network in which each individual is contributing to the success of the whole. No particular individual should be so critical to the organization that it collapses without that person.
Appropriate Roles
Matching employees to jobs is a skill that a manager can use to help her organization thrive. It isn't enough to blindly dole out roles and jobs. Leaders need to know their employees well enough to understand who is best suited to what job. Every person has her strengths and weaknesses, and a mismatch between person and job can lead to substandard performance. The ability to successfully match people to jobs can be honed through workshops, education and ongoing interaction with the staff as a whole.
Systems Thinking
No role within an organization exists in isolation. Each person's tasks are related in some way to the tasks of every other person in the organization. When all of these jobs come together seamlessly and efficiently, the result is a well-run, efficient and successful business. When there is too much isolation between roles, this can result in poor communication, bad business decisions and decreasing financial results. One of the roles that is important for systems thinking is a person or several people who are responsible for investigating the overall health of the company, and helping employees to work together to weave their jobs together into a functional system.
Communication
Successful systems are dependent on excellent communication. If all of the roles in an organization are seen as the cells within a body, communication is the blood that flows between those cells. Whether it is by telephone, email, written notes or face-to-face conversation, communication is what keeps each cell apprised of the activities of the other cells. Without this communication, functional roles are difficult to maintain because there is insufficient connection between them.