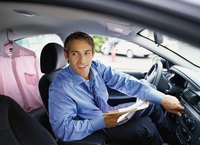 Employees who put a lot of miles on their own vehicles in the performance of their jobs incur significant costs. HR Hero says that recruiting and keeping good workers for your business means you'll need to compensate them for driving expenses. Employers usually pay a predetermined rate per mile. As long as your business complies with Internal Revenue Service rules, such mileage reimbursements are deductible business expenses.
Easy Way to Reimburse Mileage
Reimbursement for mileage is a simple, common sense idea. Instead of trying to collect all of the gas receipts and other records required to track actual vehicle expenses, you can pay an amount per mile that approximates the cost of driving a car. The IRS makes this easy by setting a standard rate for business mileage based on the average cost of motor vehicle operation. For instance, in 2015 the standard rate was 57.5 cents per mile. This standard amount allows for the full operating cost, including expenses like fuel, depreciation, repairs and insurance. The IRS doesn't require records of actual costs when you use the standard rate. Business Legal Resources says the majority of employers who pay mileage reimbursements adopt the standard rate or an amount very close to it.
Reimbursement Rules
Your organization's mileage reimbursement policy must meet IRS criteria for payments to be considered business expenses and not taxable employee compensation. Mileage can be reimbursed only for travel that is directly related to the performance of job duties. Commuting to and from home and a regular work location isn't qualified mileage. However, travel between a home office and other work site or between home and a temporary work site may be eligible mileage, as is driving between multiple work locations. If your organization prepays mileage expenses, employees have to return any unused portion.
The Mileage Log
When employers reimburse driving expenses based on mileage, the only documentation the IRS requires is a record of each trip. This is usually accomplished by instructing employees to keep a mileage log. The initial and final odometer readings for every trip must be included in a log entry, along with the date. The reason for the trip and the itinerary must be stated. Employees should submit their mileage logs on a regular schedule for reimbursement.
Reimbursement and Taxes
The IRS counts reimbursements paid at a rate equal to or less than the standard rate as business expenses. Reimbursements are not included in the employee's compensation on W-2 forms. However, if an employer chooses to pay more than the standard rate, the difference is compensation and is included as taxable income on W-2s. Parking fees and tolls are not factored into the standard rate. Employers may choose to reimburse employees for these costs as business expenses in addition to paying the standard rate for work-related driving.